Common Suffixes Words with Example!
What suffixes mean?
A suffix is a letter/a group of letters put at the end of a word to change its meaning and to form a new word. when we apply a suffix a new word formed a new word with some grammatical change.
sometimes by using the suffix at the end of the words the spelling of the base word changes. For example, when someone adds the suffix -ion to the end of the base word "revise" the end of the word e replaces with ion. By removing the -e and adding -ion a new word revision formed.
What is the purpose of suffixes in a word?
Suffix increases our vocabulary. suffix transform noun into a verb without suffix, it's not possible. its express our opinions, thought and feeling. its provide variety and depth to our writing.
Common Suffixes Words with Example
Here a list of common suffixes words with examples.
| | |
| --- | --- |
| Suffixes | Examples |
| -ware | hardware, software, kitchenware |
| -iferous | vociferous, carboniferous |
| -ish | Greenish |
| -ence | Difference |
| -dom | freedom, kingdom, boredom, |
| -ance/-ence | maintenance, permanence |
| -ise | civilise, terrorise |
| -ant | Asistant |
| ance/-ence | maintenance, permanence |
| -ine | canine, feminine, masculine |
| -like | Lifelike |
| -ness | thinness, loneliness |
| -acious/-icious | gracious, malicious |
| -ity | ingenuity, oddity |
| -less | Careless |
| -ish | Greenish |
| -ful | helpful, thankful, cheerful |
| -ess | actress, heiress, lioness |
| | |
| --- | --- |
| -fy | magnify, electrify, amplify, falsify, |
| –ance | Importance |
| -ee | Referee |
| -ac/-ic | cardiac, Nordic |
| -ful | Spoonful |
| -ist | chemist, florist, artist, linguist, |
| –ing | Painting |
| -less | Careless |
| -ant | Assistant |
| -ism | favoritism, communism |
| -like | childlike, homelike, lifelike |
| -ship | friendship, membership, , |
| -ness | thinness, loneliness, kindness, |
| –ery | Bakery |
| -ful | Beautiful |
| -ible | Flexible |
| -en | Woolen |
| –ism | Judaism |
| -ian | martian, utopian, pediatrician |
| -en | Woolen |
Common Suffixes Words with Example Infographic
| | |
| --- | --- |
| –ment | Measurement |
| -ship | friendship, membership |
| -ous | Joyous |
| -oid | celluloid, ovoid |
| -ion | Decoration |
| -ory | armory, dormitory, laboratory |
| -ose | adipose, verbose |
| -ence | Difference |
| -ment | enjoyment, embankment, |
| -ise | civilise, terrorise, lengthwise, e |
| -eer/-er/-or | mountaineer, writer, counsellor |
| -less | brainless, endless |
| -ish | hellish, fiendish |
| -some | Quarrelsome |
| -y | funny, greedy |
| -escent | adolescent, fluorescent |
| –sophy/sophic | philosophy, theosophy, |
| -esque | picturesque, Kafkaesque |
| -escent | adolescent, fluorescent |
| -eer/-er/-or | mountaineer, writer, counsellor, |
Common Suffixes Words with Example Infographic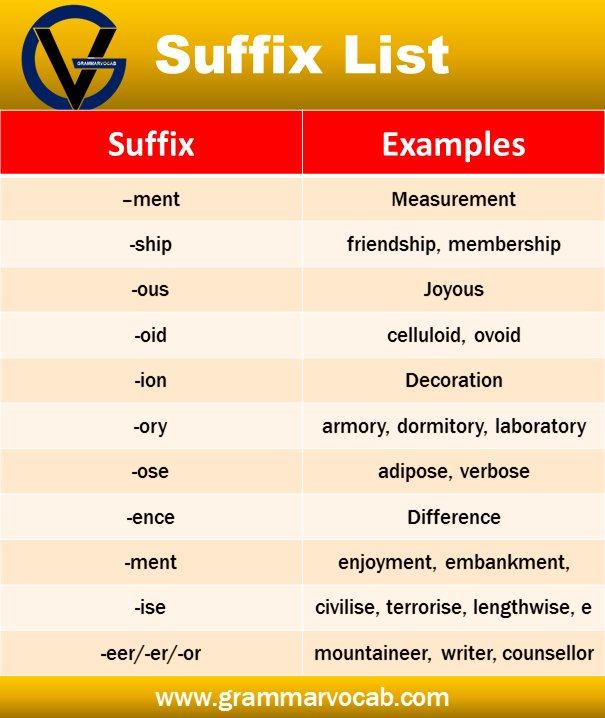 | | |
| --- | --- |
| -less | brainless, endless, fearless, |
| -ous | Joyous |
| –age | Wreckage |
| -er/or | Teacher |
| -y | funny, greedy |
| –ance | Importance |
| -ous | illustrious, nauseous |
| –ess | Waitress |
| -pathy | sympathy, apathy, neuropathy |
| -fy | magnify, electrify |
| -ite | suburbanite, luddite, dynamite |
| –ery | Bakery |
| –ess | Waitress |
| -some | Quarrelsome |
| -tude | fortitude, certitude |
| -esque | hypnosis, psychosis |
| -osis | picturesque, Kafkaesque |
| -ful | Spoonful |
| –ing | Painting |
| –ion | Decoration |
Common Suffixes Words with Example Infographic
| | |
| --- | --- |
| –able | Inflatable |
| -ism | Judaism |
| -oid | celluloid, ovoid, humanoid, |
| -er/or | Teacher |
| -ful | Beautiful |
| -sion | torsion, confusion, depression, |
| age | Wreckage |
| -tion | transition, attention, caution, |
| -al | logical, philosophical |
| -ist | chemist, florist |
| -ible | Flexible |
| -phone | homophone, telephone, |
| -ive | attractive, expensive, repulsive |
| -ous | illustrious, nauseous, hazardous, |
| -acy | fortitude, certitude |
| -tude | privacy, legitimacy |
| -ism | favoritism, communism |
| -ity | ingenuity, oddity, abnormality, |
| -ist | Florist |
| -ish | hellish, fiendish, apish, brutish, |
Common Suffixes Words with Example Infographic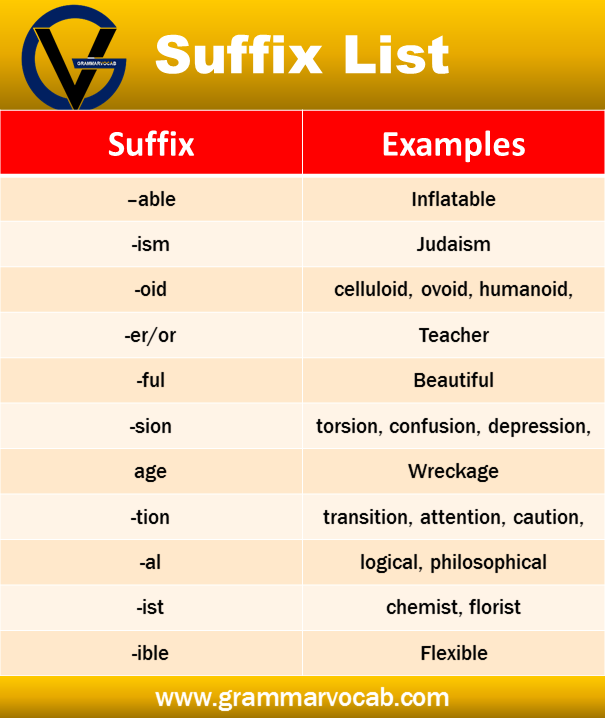 | | |
| --- | --- |
| –iferous | vociferous, carboniferous |
| -like | Lifelike |
| -ose | adipose, verbose |
| -ology | anthropology, archaeology |
| -dom | freedom, kingdom |
| –ee | Referee |
| -able | Inflatable |
| -osis | hypnosis, psychosis, diagnosis, |
| -th | depth, length, strength |
| able/-ible | childhood, neighborhood, |
| -hood | portable, legible |
| -sion/-tion | torsion, transition |
| -some | cumbersome, quarrelsome, |
| | |
Common Suffixes Words with Example Infographic
Download PDF for later use