List of Degree of Adjectives PDF!
What is an adjective?
Adjectives are words that describe nouns. Basically, an adjective describes or modifies noun/s and pronoun/s in a sentence, primarily by describing a particular quality of the word they are modifying.
What are Degrees of Adjectives?
Adjectives have three degrees that compare one thing to another, positive degree, comparative degree, and superlative degree. To describe, quantify, modify or identify nouns/pronouns, adjectives are used in specific conditions.
Here are the three degrees of adjectives:
Positive Degree
Comparative Degree
Superlative Degree
List of Degree of Adjectives
Here is a comprehensive list of degree of Adjectives:
| | | |
| --- | --- | --- |
| Positive | Comparative | Superlative |
| hairy | hairier | hairiest |
| smooth | smoother | smoothest |
| smoky | smokier | smokiest |
| flaky | flakier | flakiest |
| busy | busier | busiest |
| crispy | crispier | crispiest |
| deadly | deadlier | deadliest |
| shiny | shinier | shiniest |
| neat | neater | neatest |
| plain | plainer | plainest |
| light | lighter | lightest |
| high | higher | highest |
| rusty | rustier | rustiest |
| hot | hotter | hottest |
| creepy | creepier | creepiest |
| cold | colder | coldest |
| gross | grosser | grossest |
List of Degrees of Adjectives – Infographic 1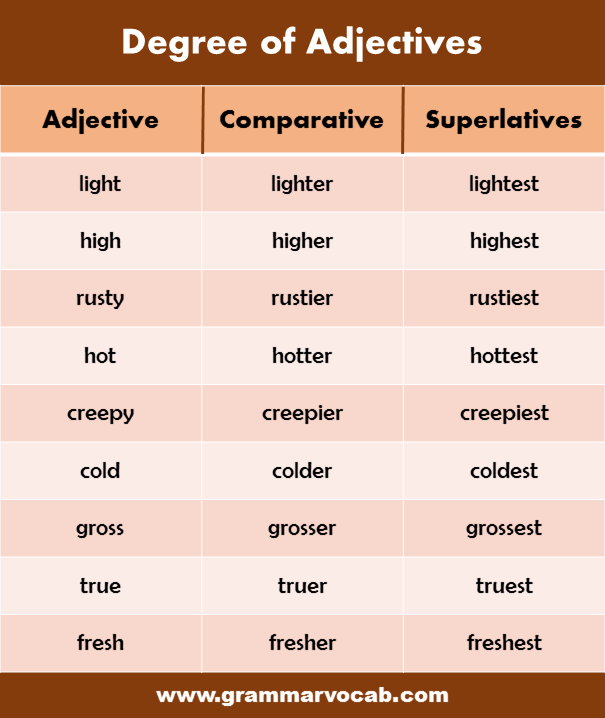 | | | |
| --- | --- | --- |
| Positive | Comparative | Superlative |
| true | truer | truest |
| fresh | fresher | freshest |
| far | further/farther | furthest/farthest |
| near | nearer | nearest |
| rare | rarer | rarest |
| fair | fairer | fairest |
| tough | tougher | toughest |
| dumb | dumber | dumbest |
| pretty | prettier | prettiest |
| tiny | tinier | tiniest |
| crunchy | crunchier | crunchiest |
| narrow | narrower | narrowest |
| scary | scarier | scariest |
| firm | firmer | firmest |
| dark | darker | darkest |
| lively | livelier | liveliest |
| proud | prouder | proudest |
| ripe | riper | ripest |
| thirsty | thirstier | thirstiest |
| cloudy | cloudier | cloudiest |
| bloody | bloodier | bloodiest |
| greedy | greedier | greediest |
| creamy | creamier | creamiest |
| thin | thinner | thinnest |
| brief | briefer | briefest |
| chubby | chubbier | chubbiest |
| thick | thicker | thickest |
Must Read: List of Countable Nouns
List of Degrees of Adjectives – Infographic 2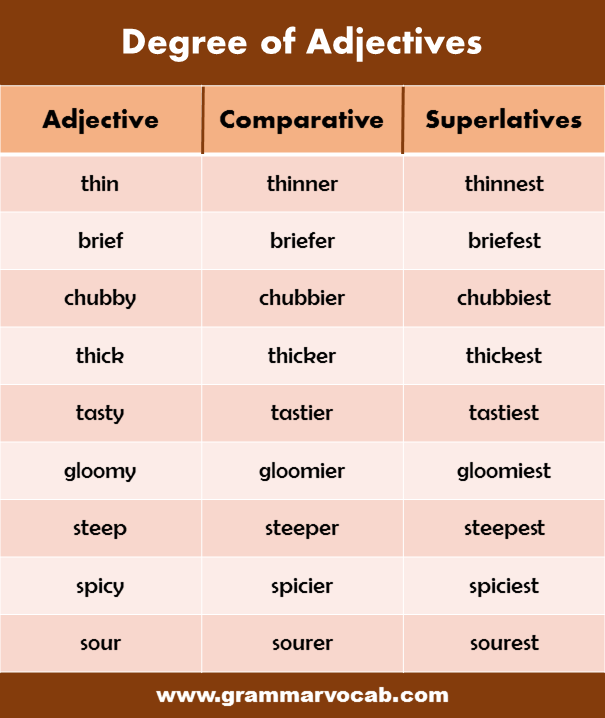 | | | |
| --- | --- | --- |
| Positive | Comparative | Superlative |
| tasty | tastier | tastiest |
| gloomy | gloomier | gloomiest |
| steep | steeper | steepest |
| spicy | spicier | spiciest |
| sour | sourer | sourest |
| clear | clear | clearest |
| lovely | lovelier | loveliest |
| sane | saner | sanest |
| fast | faster | fastest |
| silly | sillier | silliest |
| full | fuller | fullest |
| odd | odder | oddest |
| calm | calmer | calmest |
| bossy | bossier | bossiest |
| raw | rawer | rawest |
| clumsy | clumsier | clumsiest |
| hip | hipper | hippest |
| mean | meaner | meanest |
| filthy | filthier | filthiest |
| black | blacker | blackest |
| fine | finer | finest |
| likely | likelier | likeliest |
| coarse | coarser | coarsest |
| crazy | crazier | craziest |
| harsh | harsher | harshest |
| clever | cleverer | cleverest |
| noisy | noisier | noisiest |
| old | older/elder | oldest/eldest |
| dry | drier | driest |
| bright | brighter | brightest |
| long | longer | longest |
| cute | cuter | cutest |
| lazy | lazier | laziest |
| curvy | curvier | curviest |
| sorry | sorrier | sorriest |
| early | earlier | earliest |
| grave | graver | gravest |
| poor | poorer | poorest |
| pure | purer | purest |
| sore | sorer | sorest |
| blue | bluer | bluest |
| late | later | latest |
| soon | sooner | soonest |
| bland | blander | blandest |
| juicy | juicier | juiciest |
| flat | flatter | flattest |
| healthy | healthier | healthiest |
List of Degrees of Adjectives – Infographic 3
| | | |
| --- | --- | --- |
| Positive | Comparative | Superlative |
| cool | cooler | coolest |
| cruel | crueller | cruellest |
| easy | easier | easiest |
| shy | shyer | shyest |
| worldly | worldlier | worldliest |
| wise | wiser | wisest |
| windy | windier | windiest |
| wild | wilder | wildest |
| wet | wetter | wettest |
| wide | wider | widest |
| curly | curly | curliest |
| weird | weirder | weirdest |
| wealthy | wealthier | wealthiest |
| weak | weaker | weakest |
| tan | tanner | tannest |
| safe | safer | safest |
| rough | rougher | roughest |
| grand | grander | grandest |
| sharp | sharper | sharpest |
| tall | taller | tallest |
| soft | softer | softest |
| great | greater | greatest |
| risky | riskier | riskiest |
| sweet | sweeter | sweetest |
| sweaty | sweatier | sweatiest |
| sunny | sunnier | sunniest |
| strong | stronger | strongest |
| strict | stricter | strictest |
| strange | stranger | strangest |
| cheap | cheaper | cheapest |
| stingy | stingier | stingiest |
| clean | cleaner | cleanest |
| smelly | smellier | smelliest |
| short | shorter | shortest |
| smart | smarter | smartest |
| small | smaller | smallest |
| nice | nicer | nicest |
| slow | slower | slowest |
| fierce | fiercer | fiercest |
| new | newer | newest |
| slimy | slimier | slimiest |
| gentle | gentler | gentlest |
| slim | slimmer | slimmest |
List of Degrees of Adjectives – Infographic 4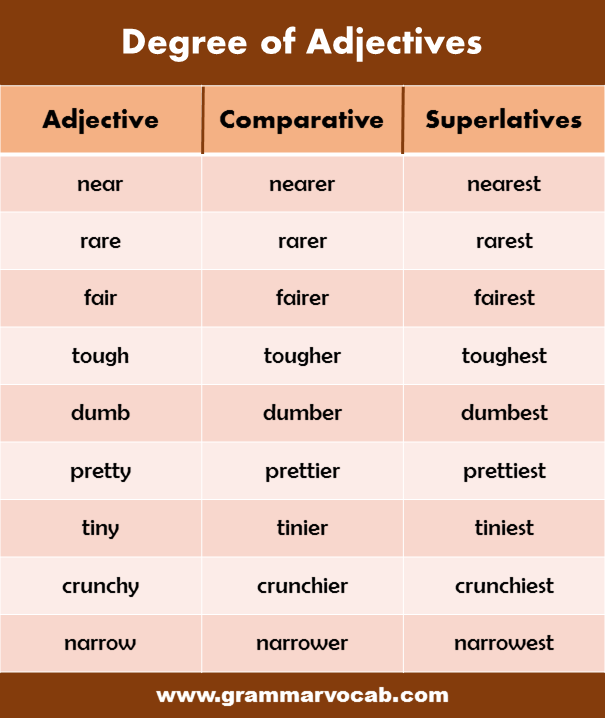 | | | |
| --- | --- | --- |
| Positive | Comparative | Superlative |
| Sleepy | sleepier | sleepiest |
| deep | deeper | deepest |
| naughty | naughtier | naughtiest |
| polite | politer | politest |
| skinny | skinnier | skinniest |
| dense | denser | densest |
| faint | fainter | faintest |
| sincere | sincerer | sincerest |
| icy | icier | iciest |
| salty | saltier | saltiest |
| close | closer | closest |
| humble | humbler | humblest |
| needy | needier | neediest |
| happy | happier | happiest |
| little | littler | littlest |
| loud | louder | loudest |
| simple | simpler | simplest |
| big | bigger | biggest |
| itchy | itchier | itchiest |
| rich | richer | richest |
| good | better | best |
| hard | harder | hardest |
| shallow | shallower | shallowest |
| sad | sadder | saddest |
| fit | fitter | fittest |
| moist | moister | moistest |
| bold | bolder | boldest |
| messy | messier | messiest |
| bad | worse | worst |
| handy | handier | handiest |
| bitter | bitterer | bitterest |
| oily | oilier | oiliest |
| dusty | dustier | dustiest |
| dull | duller | dullest |
| large | larger | largest |
| kind | kinder | kindest |
| damp | damper | dampest |
| low | lower | lowest |
| nasty | nastier | nastiest |
| chewy | chewier | chewiest |
| few | fewer | fewest |
| quiet | quieter | quietest |
| broad | broader | broadest |
| funny | funnier | funniest |
| hungry | hungrier | hungriest |
| fancy | fancier | fanciest |
| greasy | greasier | greasiest |
| guilty | guilter | guiltiest |
List of Degrees of Adjectives – Infographic 5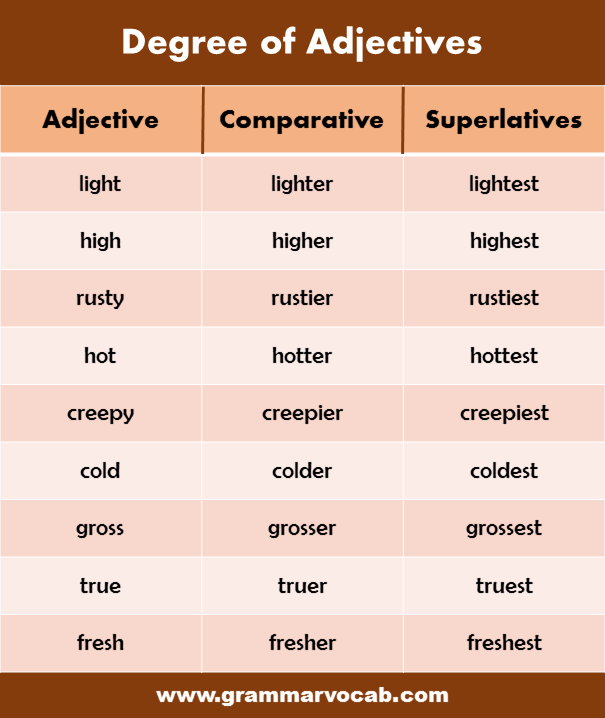 | | | |
| --- | --- | --- |
| Positive | Comparative | Superlative |
| Lonely | lonlier | loneliest |
| angry | angrier | angriest |
| fat | fatter | fattest |
| dirty | dirtier | dirtiest |
| brave | braver | bravest |
| rude | ruder | rudest |
| roomy | roomier | roomiest |
| quick | quicker | quickest |
| mild | milder | mildest |
| classy | classier | classiest |
| heavy | heavier | heaviest |
| friendly | friendlier | friendliest |
| young | younger | youngest |
| worthy | worthier | worthiest |
| warm | warmer | warmest |
| ugly | uglier | ugliest |
| mad | madder | maddest |
Download this Lesson of Degree of Adjectives List in PDF