Homophones are words that sound the same but have different meanings and often different spellings. They can be a source of confusion for writers and speakers of English, but they also add depth and complexity to the language. Understanding homophones is crucial for clear and effective communication in both spoken and written forms. In this article, we will explore various homophones in English, providing examples and meanings to help you grasp their usage.
What are homophones?
A homophone is a word that has almost the same pronunciation as the other word but has a different meaning. Homophones are word that has different spellings,  and different meaning i.e. 
Sun – Son
Able – Abel
Marry – Merry
Mare – Mere
Common Homophones in English
 
Homophones
Meaning
1.    
Abject

Object

Hateful

Purpose

The poor surroundings caused abject misery.

Can you describe the object?

2.    
Adapt

Adopt

Make according

Take on, Accept

He needed to adapt his strategies when dealing with her.

They decided to adopt a child.

3.    
Admit

Confess

Got admission

Accept mistake

Don't be afraid to admit to your mistakes.

I confess to some suspicion of your honesty.

4.    
Affect

Effect

Mask, show something else

Result

Colorado was affected by severe flooding last summer.

The snow had a predictable effect on traffic.

5.    
Oar

Ore

a pole with a flat blade

Ore is a rock that contains minerals like iron

We each took an oar.

Iron ores have been found in most of the states

6.    
Lessen

Lesson

Reduce something

tutorial

They gave her an injection to lessen the pain.

I enjoyed the lesson on world history.

7.    
Loath
Not Agreed

Hate for

The little girl was loath to leave her mother.

I loathe these horrible roads, but I love the places they take you.

8.    
Lose

Loose

Left

Not fixed in place

I lose a lot of money during Pandemic.

This tooth is loose.

9.  
Marry

Merry

Join together (Husband wife relation)

Happy, joy

John Wants to Marry Jackeline.

He laughed at that, and his laugh was merry and frank.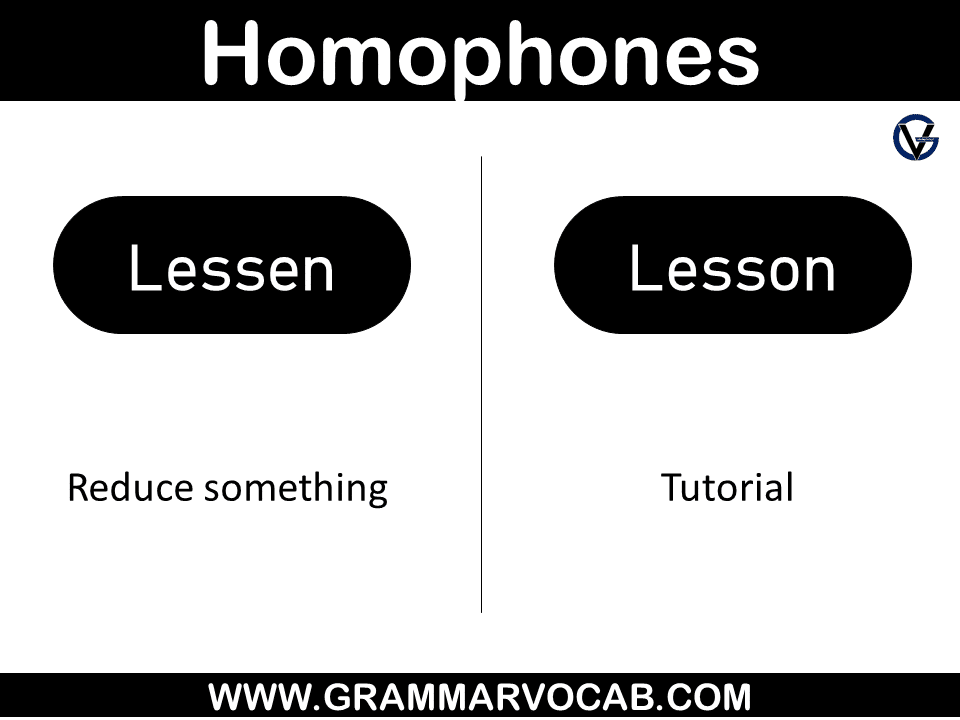 10.  
Mare

Mere

Female horse

Just, bit

She urged her mare to jump the fence.

I have mere two coins.

11.  
Miner

Minor

Digger

Tint, small

My friend is a miner.

He suffered a minor heart attack.

12.  
Feat

Feet

Exercise for others fun

paw, forepaw, hind paw, hoof

It's no wonder fans are fascinated by the feat..

Her feet are nice and clean.

13.  
Float

Swim

Hover, slide, flow

Dip, Dive

Cork can float on water.

Rima knows how to swim.

14.  
Foul

Fowl

Wrong play

Bird

Please stop playing foul games.

Fowl is a beautiful bird.

15.  
Heal

Heel

Cure, remedy, restore

Shoe base

Doctor has no heal for his pain.

She was looking gorgeous in her black heals.

16.  
Industrial

Industrious

Related to factory and manufacturing

Hardworking

Industrial growth is of vital importance for a Country.

His brother is a industrious person.

17.  
Sore

Soar

Painful

Lift, zoom, moving upwards

She rubbed a sore spot in her lower back.

An eagle was soaring high up in the air.

18.  
Stair

Stare

Lift

Look, gaze

She tripped over a stair and landed hard.

Stop Staring at me.

19.  
Steal

Steel

Act of thief, swipe, sneak

Metal

Your goal is to steal a necklace with a red gem on it.

He emerged from the thick steel walls into the sunlight.
21.  
Vain

Vein

No gain

Rug, skin tube, blood vessels

I too hoped and waited for one until now- but in vain.

The veins in his hands are really thick and easy to see under the skin.

22.  
Waist

Waste

Midsection of human body

Garbage

He put an arm around her waist and kissed her cheek.

I consigned her letter to the waste basket.

23.  
Calendar

Calendar

Date teller

A machine that can smooth cloth

Do you have next year's calendar?

Calender is glazing coater matching equipment.

24.  
Casual

Causal

Effort less

Lesson giving, creative

He tried to look casual.

No causal connection between the events was found.

25.  
Artist

Artiste

Actor

Related to singing

Everyone wanted to meet the artist and discuss the work they were interested in.

She was a popular French music hall artiste in the late 19th century.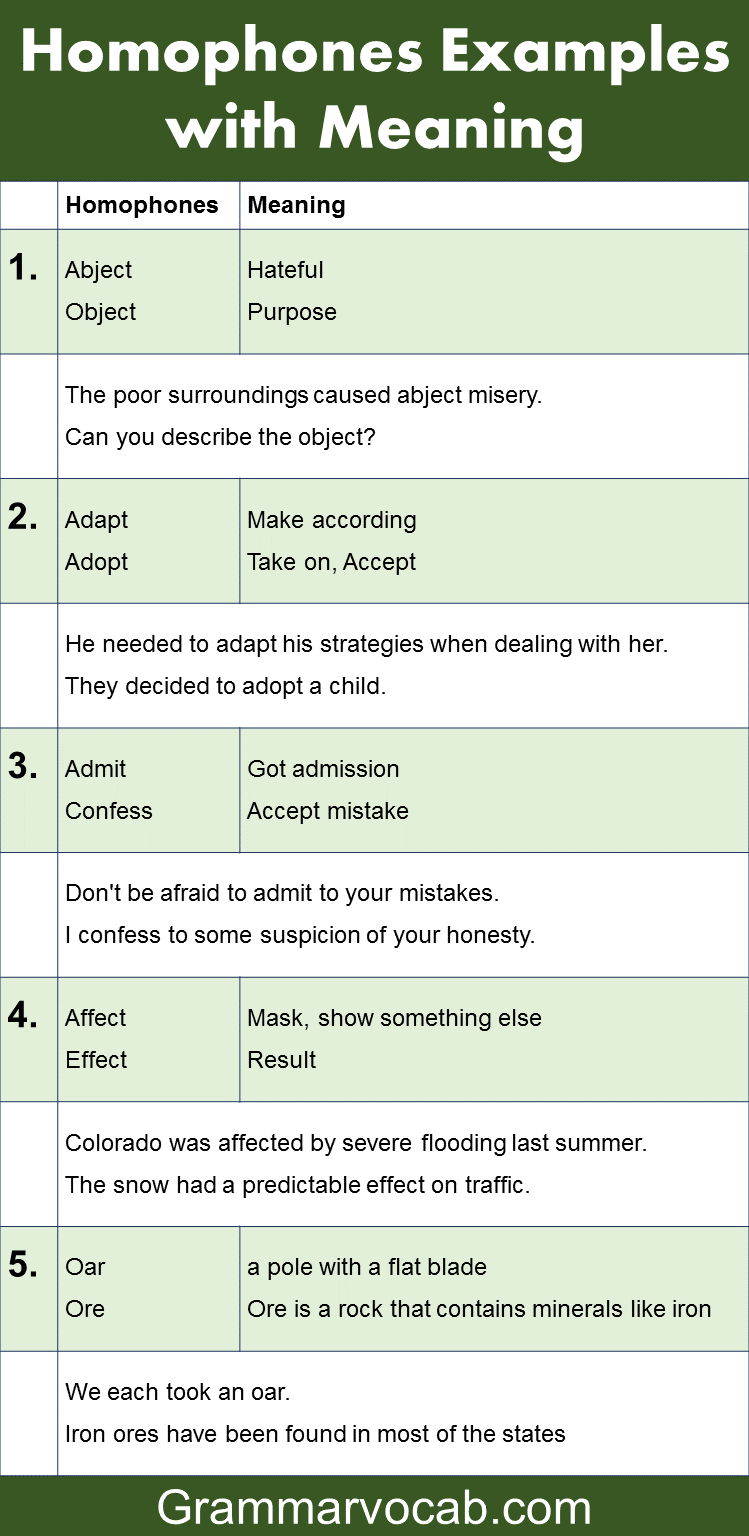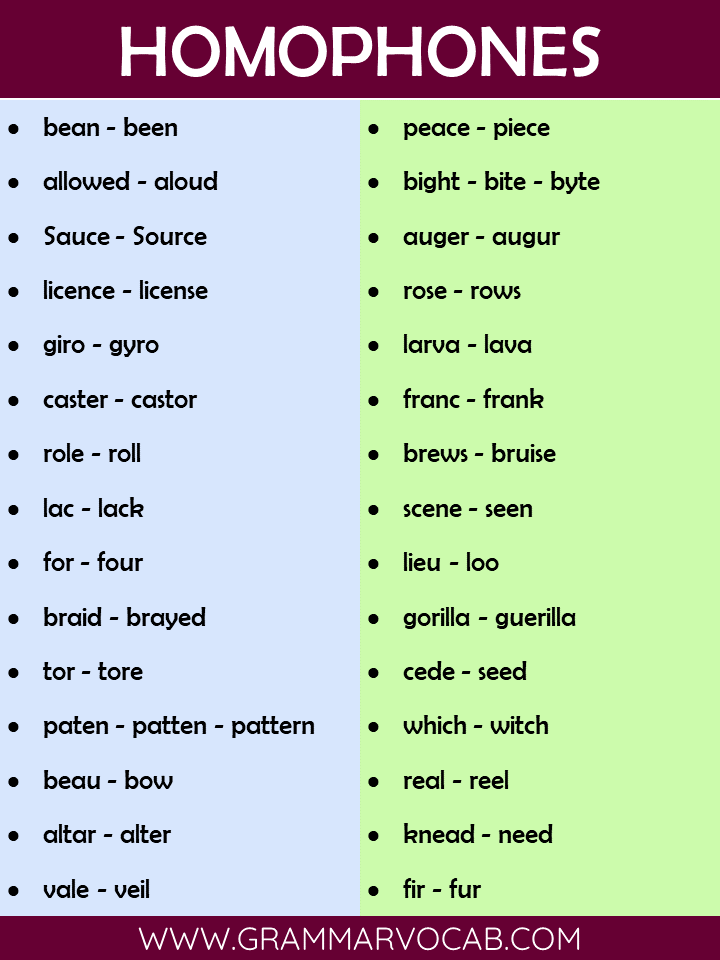 gneiss – nice
caw – core – corps
toad – toed – towed
pain – pane
be – bee
air – heir
roo – roux – rue
lade – laid
foreword – forward
braise – brays – braze
their – there
none – nun
doe – doh – dough
bald – bawled
steal – steel
slay – sleigh
maw – more
colonel – kernel
ton – tun
pascal – paschal
beat – beet
alms – arms
te – tea – tee
stair – stare
morning – mourning
dear – deer
tale – tail
Sort – Sought
moat – mote
currant – current
sew – so
mail – male
hall – haul
check – cheque
toe – tow
pair – pare – pear
be – bee
aisle – isle
wain – wane
pearl – purl
heal – heel
blew – blue
away – aweigh
whit – wit
rheum – room
knock – nock
flew – flu – flue
who's – whose
right – write
knot – not
floe – flow
rood – rude
lain – lane
fort – fought
brake – break
scull – skull
lo – low
greave – grieve
cell – sell
suite – sweet
sole – soul
medal – meddle
cops – copse
threw – through
oar – or
douse – dowse
band – banned
seam – seem
locks – lox
groan – grown
cent – scent