Abbreviations for words!
Abbreviations are shortened forms of words or lengthy phrases and are very useful in written communication. Abbreviations are very important when someone wants to write quickly and in less time. These Short forms (Abbreviations for words) save time, energy, and it reduces the length of a text.
If you are writing your text using the abbreviation, you must make sure that the receiving or reading person must have access to those abbreviations for words.
A List of 1000+ Synonyms
So here is the list of the most common list of abbreviations for words.
ABBREVIATIONS FOR WORDS
| | |
| --- | --- |
| ABC | AMERICAN BROADCASTING COMPANY |
| ADA | AIR DEVELOPMENT AUTHORITY |
| AEA | ATOMIC ENERGY AUTHORITY |
| AEO | ASSISTANT EDUCATION AUTHORITY |
| AG | ADVOCATE GENERAL |
| AIR | ALL INDIAN RADIO |
| AJK | AZAD JAMMU AND KASHMIR |
| A.O | ACCOUNT OFFICER |
| APNEC | ALL PAKISTAN NEWSPAPER EDITOR COUNCIL |
| ASF | AIRPORT SECURITY FORCE |
| ASI | ASSISTANT SUB INSPECTOR |
| BAR-AT-LAW | BARRISTER AT LAW |
| BBC | BRITISH BROADCASTING CORPORATION |
| BCL | BACHELOR IN CIVIL LAW |
| IDB | ISLAMIC DEVELOPMENT BANK |
| ILC | INTERNATIONAL LAW COMMISSION |
| IMF | INTERNATIONAL MONITORY FUND |
| ITC | INCOME TAX COMMISSIONER |
| MA | MASTER OF ARTS |
| MD | MANAGING DIRECTOR |
| MEA | MIDDLE EAST AIRLINES |
| MNA | MEMBER OF NATIONAL ASSEMBLY |
| MPA | MEMBER OF PROVINCIAL ASSEMBLY |
| PA | PERSONAL ASSISTANT |
| B.A | BACHELOR OF ARTS |
| B.COM | BACHELOR OF COMMERCIAL |
| BSC | BACHELOR OF SCIENCE |
| BT | BACHELOR OF TEACHING |
| C.A | CHARTERED ACCOUNTANT/ CURRENT ACCOUNT |
| CEC | CHIEF ELECTION COMMISSIONER |
| CJ | CHIEF JUSTICE |
| CP | COMMUNIST PARTY |
| CSS | CENTRAL SUPERIOR SERVICES |
| EDO | DISTRICT EDUCATION OFFICER |
| DSP | DEPUTY SUPERINTENDENT POLICE |
| EOT | EMERGENCY OPERATION THEATER |
| FA | FACULTY OF ARTS |
| GA | GENERAL ASSEMBLY |
| GPO | GENERAL POST OFFICE |
| HBFC | HOUSE BUILDING FINANCE CORPORATION |
| HC | HIGH COURT |
| ICU | INTENSIVE CARE UNIT |
| SDO | SUB DIVISIONAL OFFICER |
| USC | UTILITY STORES CORPORATION |
| MAMY | WORLD ASSEMBLY OF MUSLIM YOUTH |
| WIM | WORLD ISLAMIC MISSION |
| WMA | WORLD MEDICAL ASSOCIATION |

TEXTING (SMS) ABBREVIATIONS
| | |
| --- | --- |
| A.S.A.P. |  AS SOON AS POSSIBLE |
| ACE |  A COOL EXPERIENCE |
| ACK | ACKNOWLEDGE |
| AD |  AWESOME DUDE |
| AFAIK |  AS FAR AS I KNOW |
| AFK |  AWAY FROM KEYBOARD |
| ATB | ALL THE BEST |
| AMA | ASK ME ANYTHING |
| ANI |  AGE NOT IMPORTANT |
| APP | APPLICATION |
| APPROX. |  APPROXIMATELY |
| APPT. |  APPOINTMENT |
| APT. |  APARTMENT |
| AUS | ARE YOU SERIOUS? |
| ASAP | AS SOON AS POSSIBLE |
|  AVN. | AVENUE |
| BC | BE COOL |
| B4 | BEFORE |
| BR | BEST REGARDS |
| BB | BIG BROTHER |
| BCOY | BIG CRUSH ON YOU |
| BPLM | BIG PERSON LITTLE MIND |
| BIB | BOSS IS BACK |
| BF | BOYFRIEND |
|  BRB | BE RIGHT BACK |
| BIL | BROTHER IN LAW |
| BIL | BROTHER IN LAW |
|  C/O | CARE OF |
| CM | CALL ME |
| CAM | CAMERA |
| CTN | CAN'T TALK NOW |
| CRZY | CRAZY |
| CRT | CREATE |
| CUL | SEE YOU LATER |
| CWYL |  CHAT WITH YOU LATER |
| CYN. |  CANYON |
| D.I.Y. |  DO IT YOURSELF |
| DTR | DEFINE THE RELATIONSHIP |
| DEPT. | DEPARTMENT |
| DUK | DO YOU KNOW? |
| DUR | DO YOU REMEMBER? |
| DR. | DRIVE |
| DUD | DUDE |
|  E | EAST |
|  E.T.A | ESTIMATED TIME OF ARRIVAL |
| EMA | EMAIL ADDRESS |
| EOL | END OF LIFE |
| EOL | END OF THE LECTURE |
|  EST. | ESTABLISHED |
| E1 | EVERYONE |
| 4AO | FOR ADULTS ONLY |
| 4URI | FOR YOUR INFO |
| GF | GIRLFRIEND |
| G2R | GET TO RUN |
| GBU | GOD BLESS YOU! |
| GB | GOODBYE |
| BDY | HAPPY BIRTHDAY |
| HMU | HIT ME UP |
| ICUB | I CALL YOU BACK |
| 143 | I LOVE YOU |
| 1432 | I LOVE YOU TOO |
| IDK | I DON'T KNOW |
| IIRC |  IF I RECALL/REMEMBER CORRECTLY |
| IKR | I KNOW RIGHT |
| IQ |  IGNORANCE QUOTIENT |
| LN. |  LANE |
| LOL |  LAUGH OUT LOUD |
| LU | LOVE YOU |
| MIN. |  MINUTE OR MINIMUM |
| MISC. |  MISCELLANEOUS |
| MR. |  MISTER |
| MRS. |  MISTRESS (PRONOUNCED MISSUS) |
| N |  NORTH |
| NE |  NORTHEAST |
| NM | NOT MUCH |
| NO. |  NUMBER |
| NP |  NO PROBLEM |
| NVM | NEVERMIND |
| NW |  NORTHWEST |
| ONM | ON MY WAY |
| PPL | PEOPLE |
| RD. |  ROAD |
| ROFL |  ROLLING ON THE FLOOR LAUGHING |
| S |  SOUTH |
| SE |  SOUTHEAST |

Most Common of Words Abbreviations
| | |
| --- | --- |
| 6Y | SEXY |
| 6K | SICK |
| ST. |  STREET |
| SW |  SOUTHWEST |
| TEL. |  TELEPHONE |
| TEMP. |  TEMPERATURE OR TEMPORARY |
| 10Q | THANK YOU |
| 10X | THANKS |
| 2NT | TONIGHT |
| TY |  THANK YOU |
| VET. |  VETERAN OR VETERINARIAN |
| LV |  LOVE |
| W8NG | WAITING |
| WC |  WRONG CONVERSATION |
BUSINESS AND JOB WORDS ABBREVIATIONS
| | |
| --- | --- |
| BA |  BACHELOR OF ARTS |
| BS |  BACHELOR OF SCIENCE |
| MA |  MASTER OF ARTS |
| M.PHIL OR MPHIL |  MASTER OF PHILOSOPHY |
| JD |  JURIS DOCTOR |
| DC |  DOCTOR OF CHIROPRACTIC |
| PA |  PERSONAL ASSISTANT |
| MD |  MANAGING DIRECTOR |
| VP |  VICE PRESIDENT |
| SVP |  SENIOR VICE PRESIDENT |
| EVP |  EXECUTIVE VICE PRESIDENT |
| CMO |  CHIEF MARKETING OFFICER |
| CFO |  CHIEF FINANCIAL OFFICER |
| CEO |  CHIEF EXECUTIVE OFFICER |
COMPUTER AND TECHNOLOGY WORDS ABBREVIATIONS
| | |
| --- | --- |
| IMEI |  INTERNATIONAL MOBILE EQUIPMENT IDENTITY |
| COMPUTER |  COMMON OPERATING MACHINE PARTICULARLY USED FOR TECHNICAL, EDUCATION, AND RESEARCH |
| VIRUS | VITAL INFORMATION RESOURCES UNDER SEIGE |
| NEWSPAPER | NORTHEAST WEST SOUTH PAPER PAST AND PRESENT EVENT REPORT |
| LCD | LIQUID CRYSTAL DISPLAY |
| HDMI | HIGH DEFINITION MULTIMEDIA INTERFACE |
| DVD |  DIGITAL VERSATILE DISK |
| WIFI | WIRELESS FIDELITY |
| ATM |  AUTOMATED TELLER MACHINE |
| DP |  DISPLAY PICTURE |
| ROM |  READ ONLY MEMORY |
| GIF |  GIFT INTERCHANGE FORMATE |
| SMS |  SHORT MESSAGE SERVICE |
| GPS |  GLOBAL POSITIONING SYSTEM |
| HTTP |  HYPERTEXT TRANSFER PROTOCOL |
| HDMI |  HIGH DEFINITION MULTIMEDIA INTERFACE |
| CC |  CARBON COPY |
| BCC |  BLIND CARBON COPY |
| DSL |  DIGITAL SUBSCRIBER LINE |
| LTE |  LONG TERM EVOLUTION |
| LCD |  LIQUID CRYSTAL DISPLAY |
| URL |  UNIFORM RESOURCE LOCATOR |
| SC CARD |  SECURE DIGITAL CARD |
| GIF |  GRAPHICS INTERCHANGE FORMAT |
| SMS |  SHORT MESSAGE SERVICE |
| WWW |  WORLDWIDE WEB |
| SIM |  SUBSCRIBER IDENTITY MOBILE |
| GB |  GIGABYTES |
| GPU |  GRAPHICS PROCESSING UNIT |
| CCTV |  CLOSED CIRCUIT TELEVISION |
| PPI |  PIXEL PER INCH |
| HSDPA |  HIGH-SPEED DOWNLINK PACKET ACCESS |
| SQL |  STRUCTURED QUERY LANGUAGE |

ABBREVIATIONS FOR WORDS (MOSTLY USED)
| | |
| --- | --- |
| MEMO |  MEMORANDUM |
| AM |  ANTE MERIDAN |
| PM |  POST-MERIDIAN |
| EMAIL |  ELECTRONIC MAIL |
| ETC. | ET CETERA |
| COZ |  BECAUSE |
| MATH |  MATHEMATICS |
| TILL |  UNTIL |
| CV |  CURRICULUM VITAE |
| PTO |  PLEASE TURN OVER |
| RSVP |  PLEASE RESPOND |
| I.E. |  THAT IS |
| RSPV |  PLEASE RESPOND |
| PTO |  PLEASE TURN OVER |
| E.G. |  FOR EXAMPLE |
| NO. |  NUMBER |
| FIR |  FIRST INFORMATION REPORT |
| PAN |  PERMANENT ACCOUNT NUMBER |
INFOGRAPHICS (Abbreviations for words)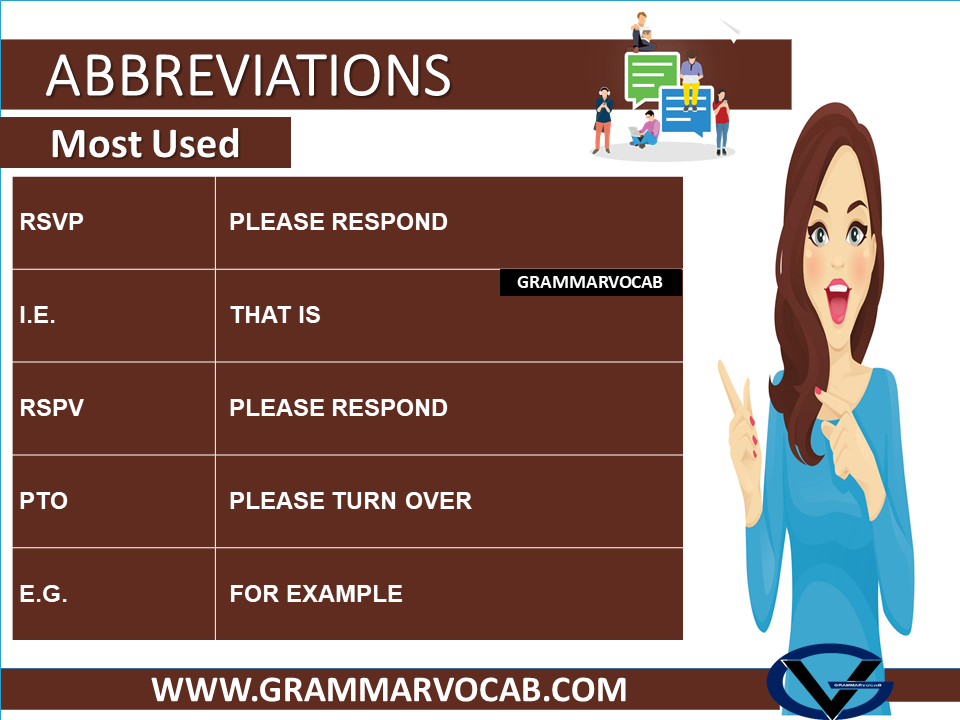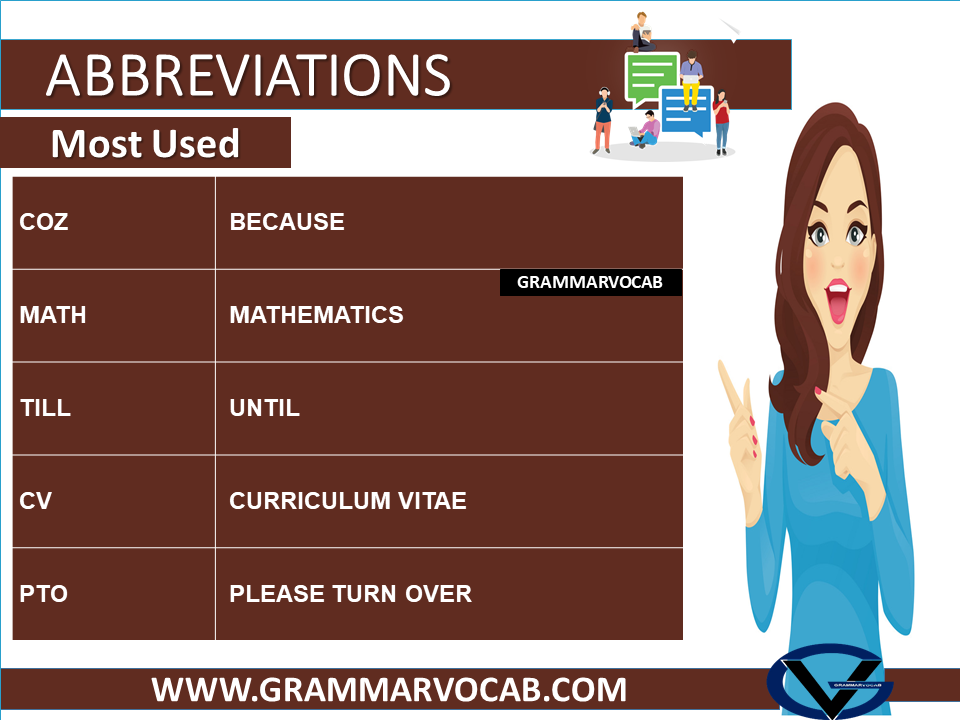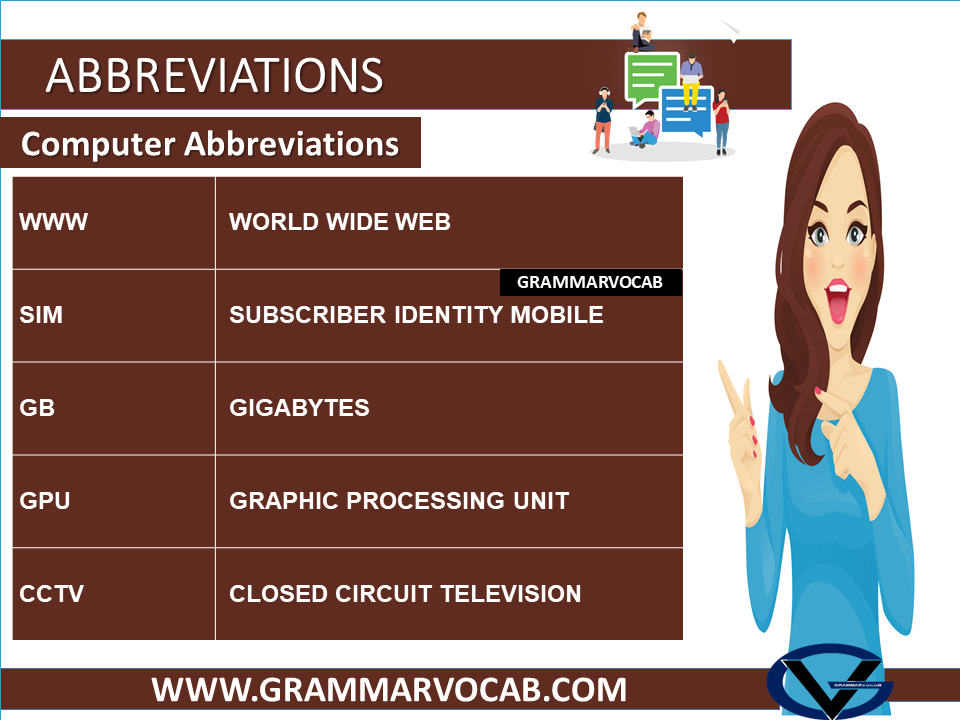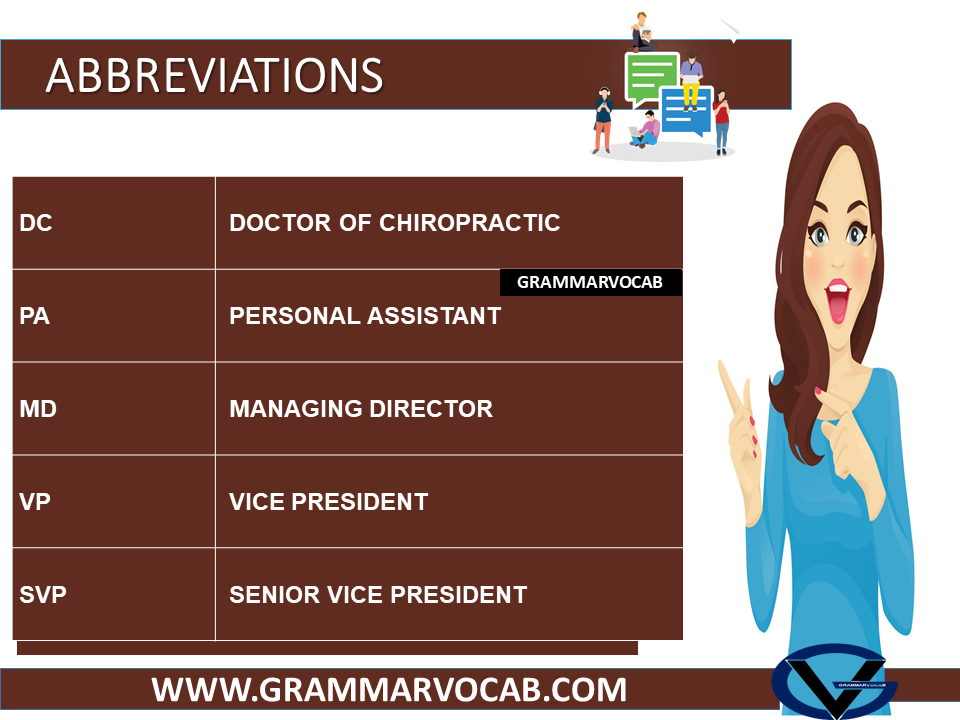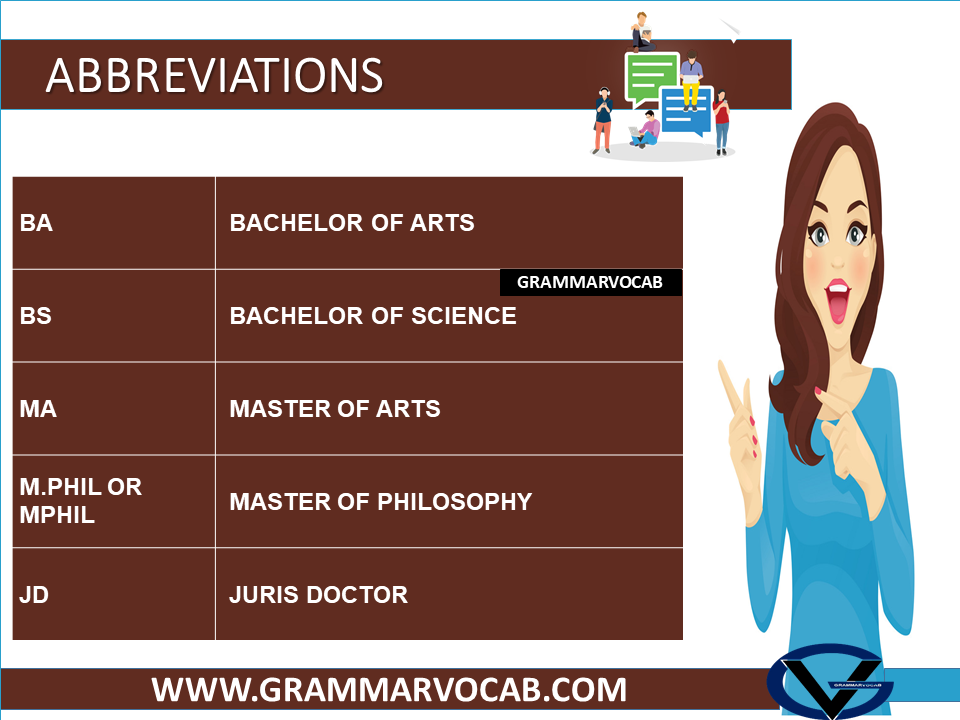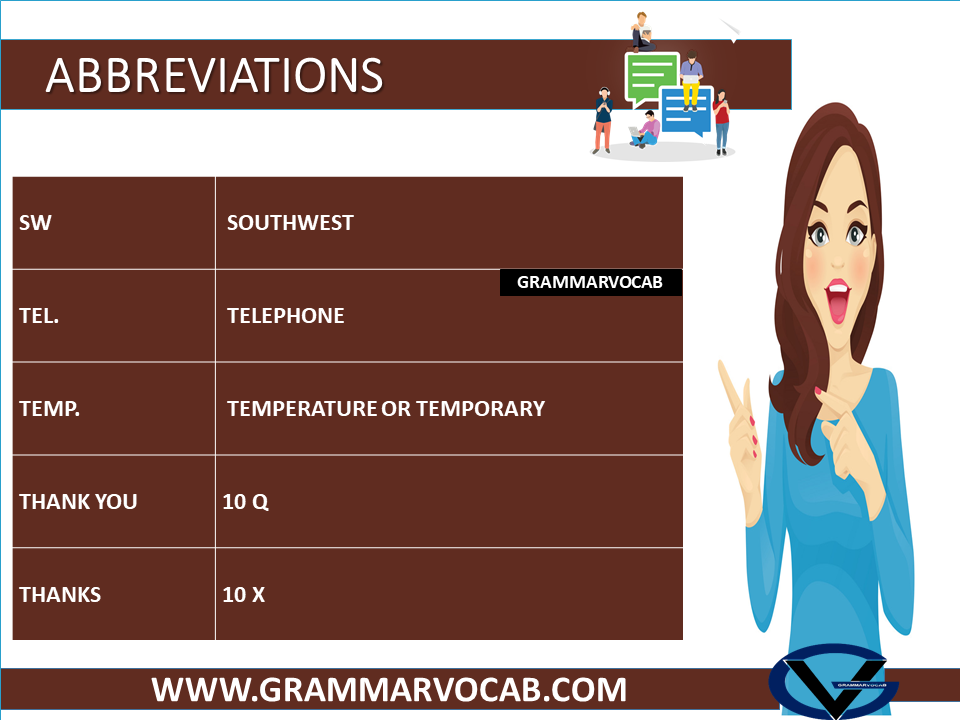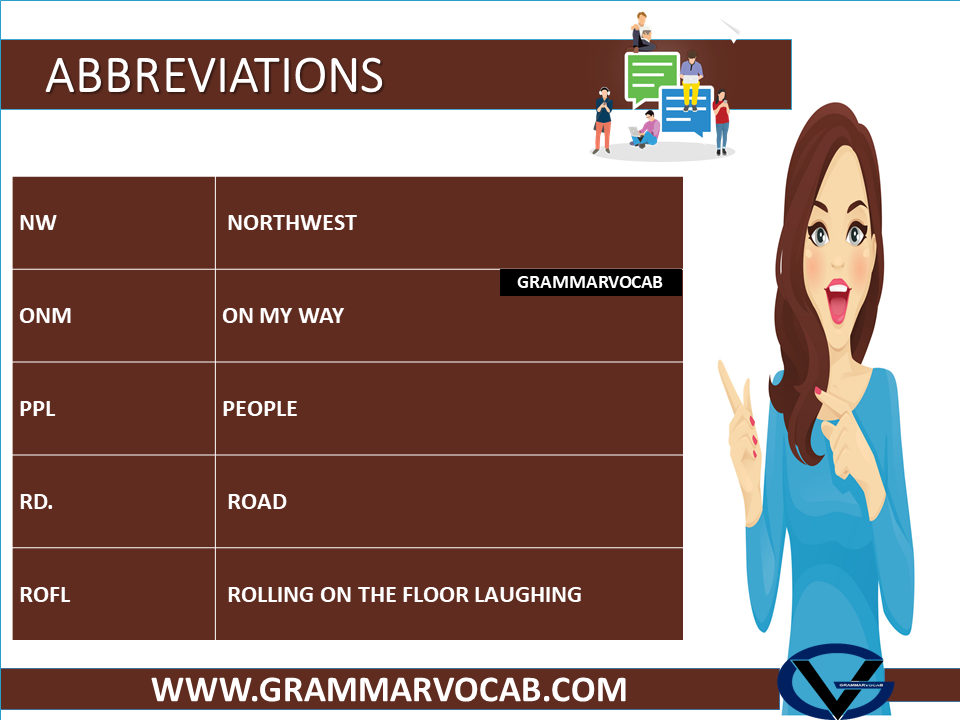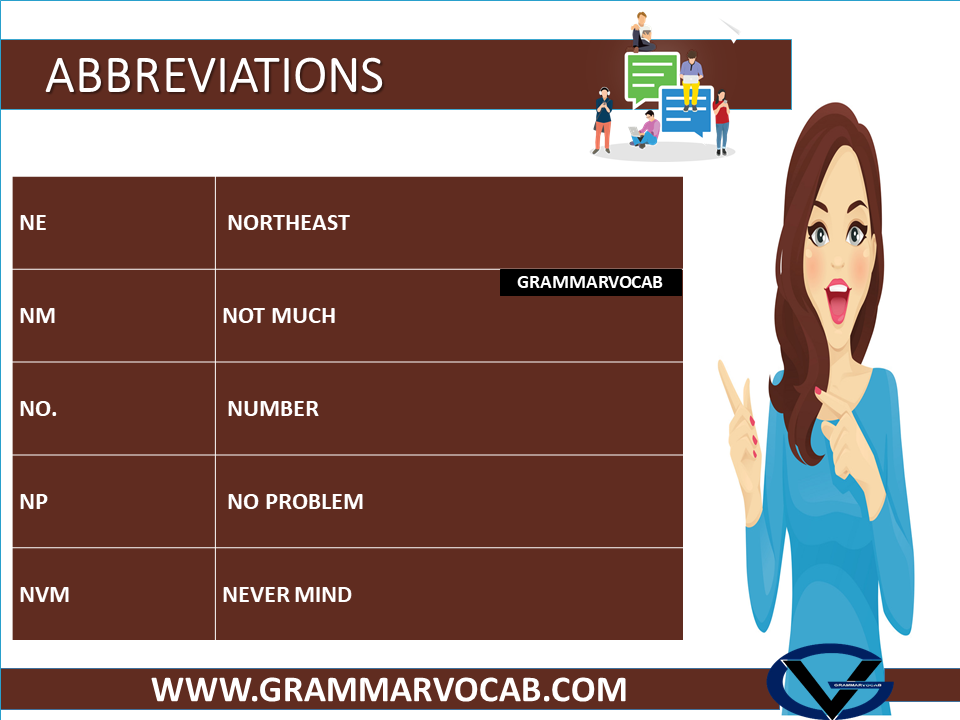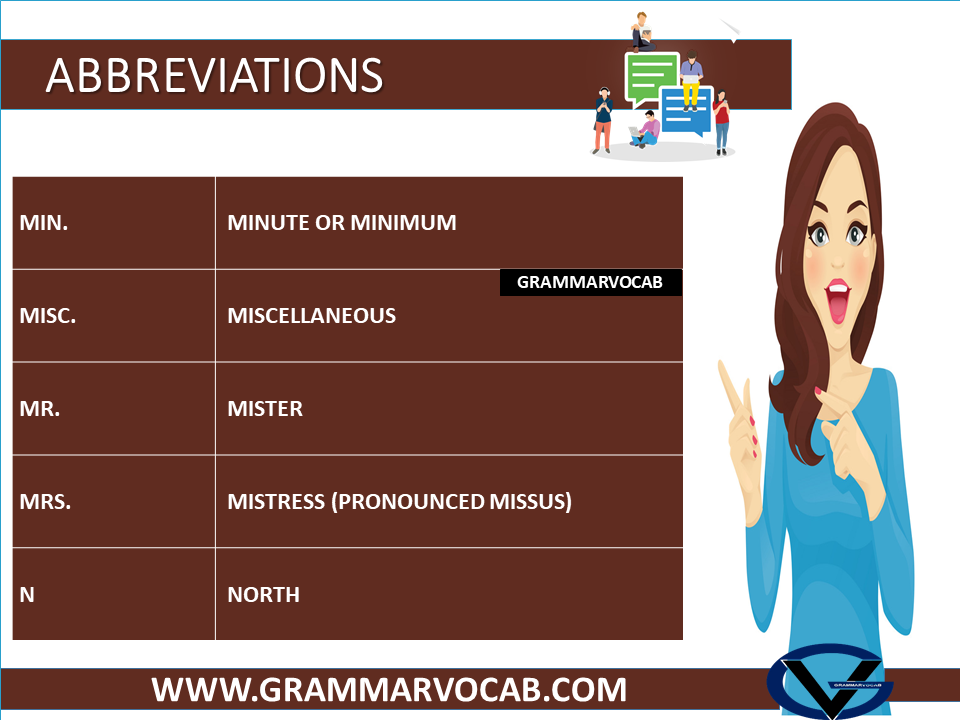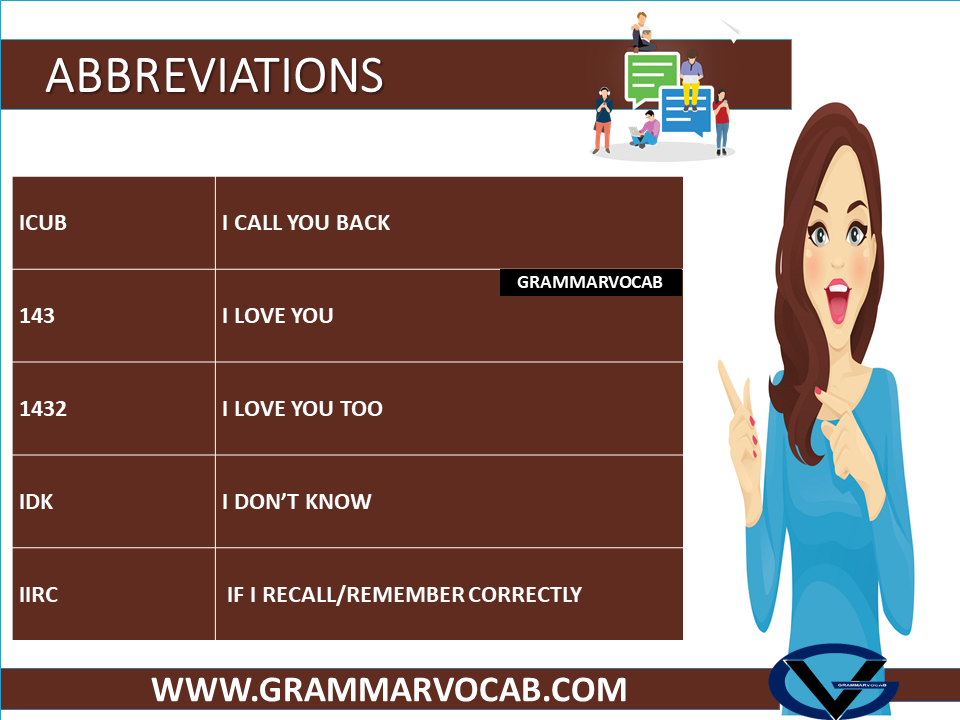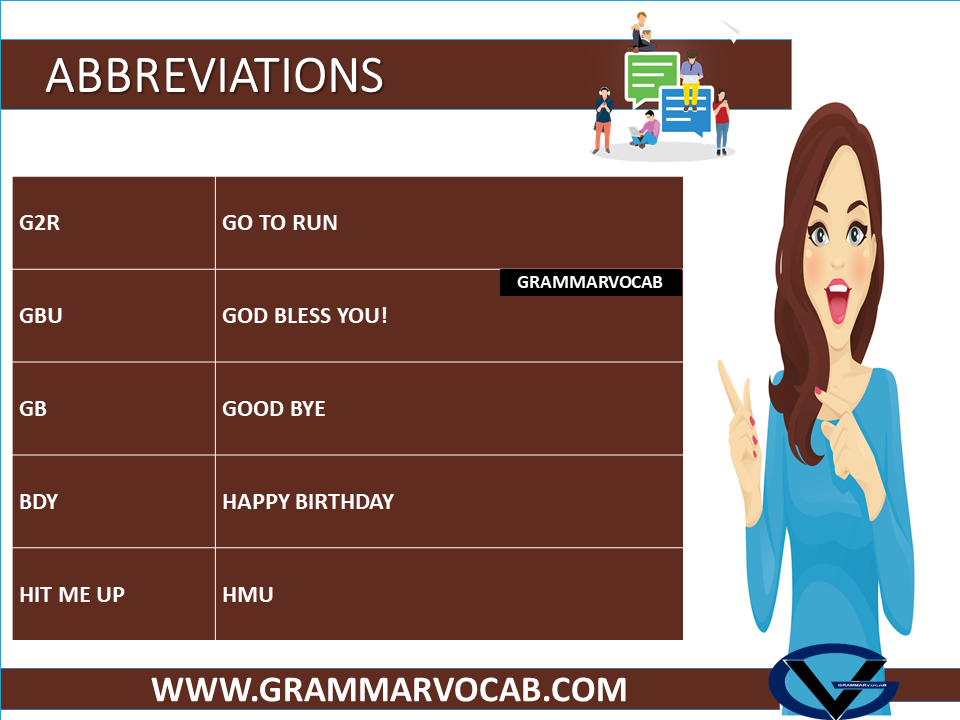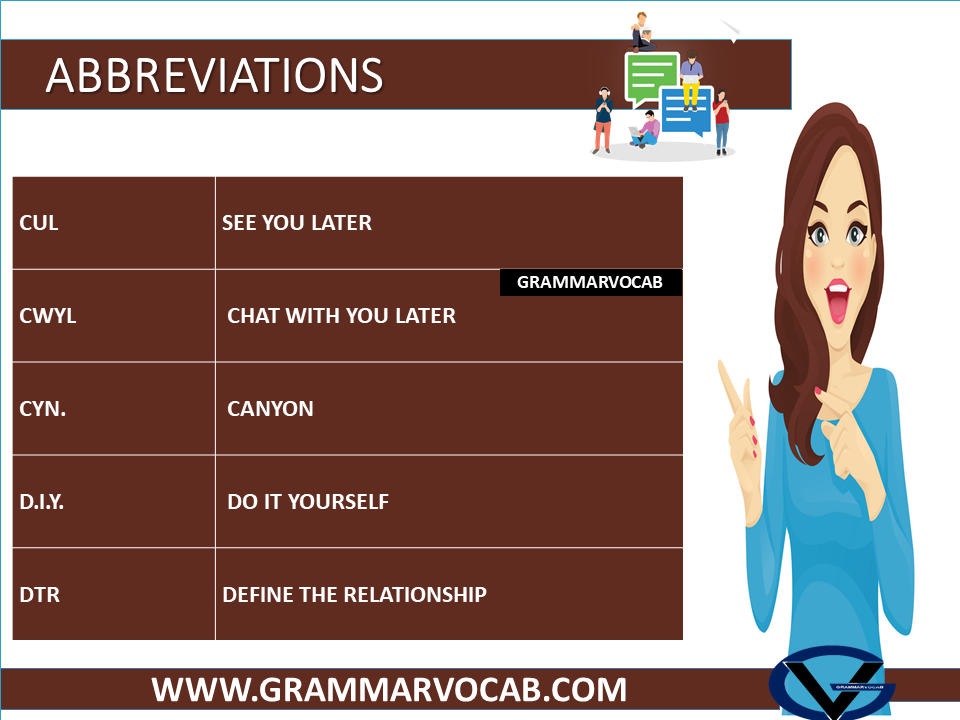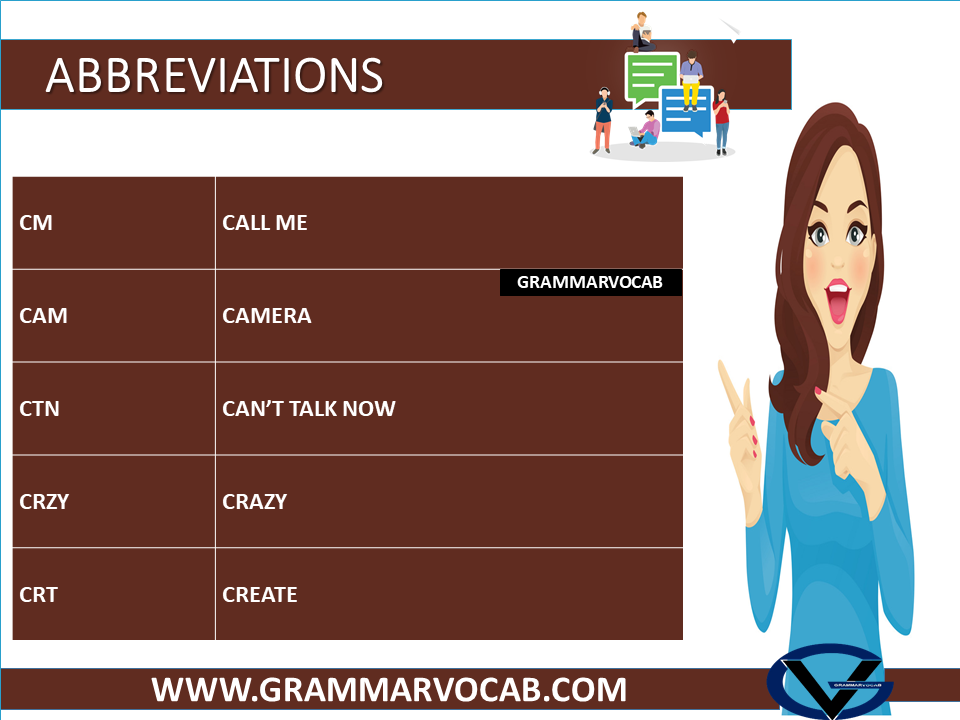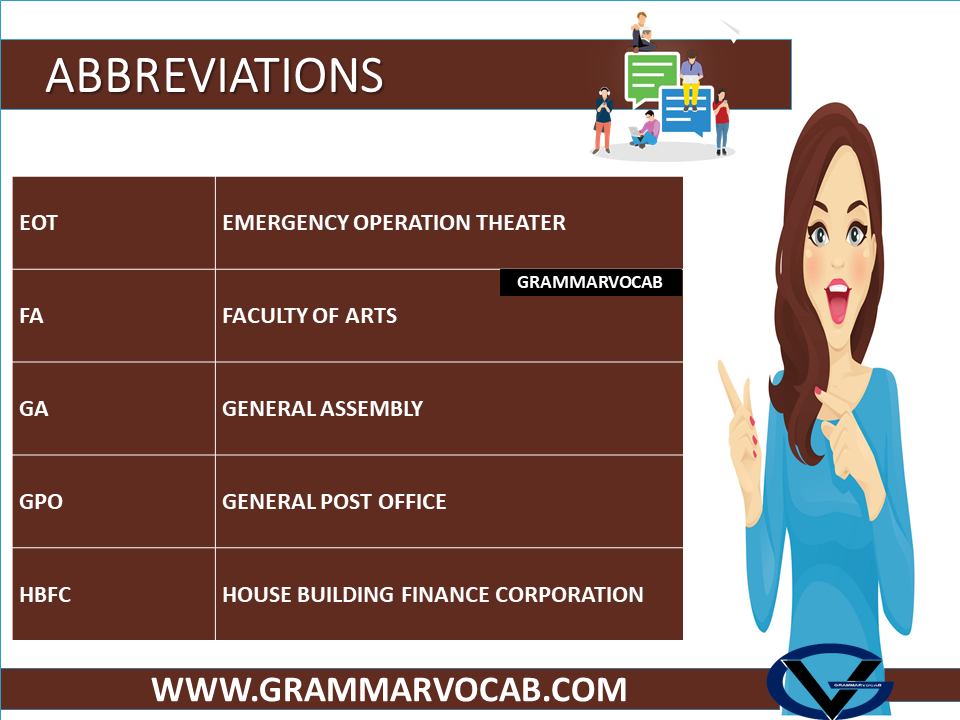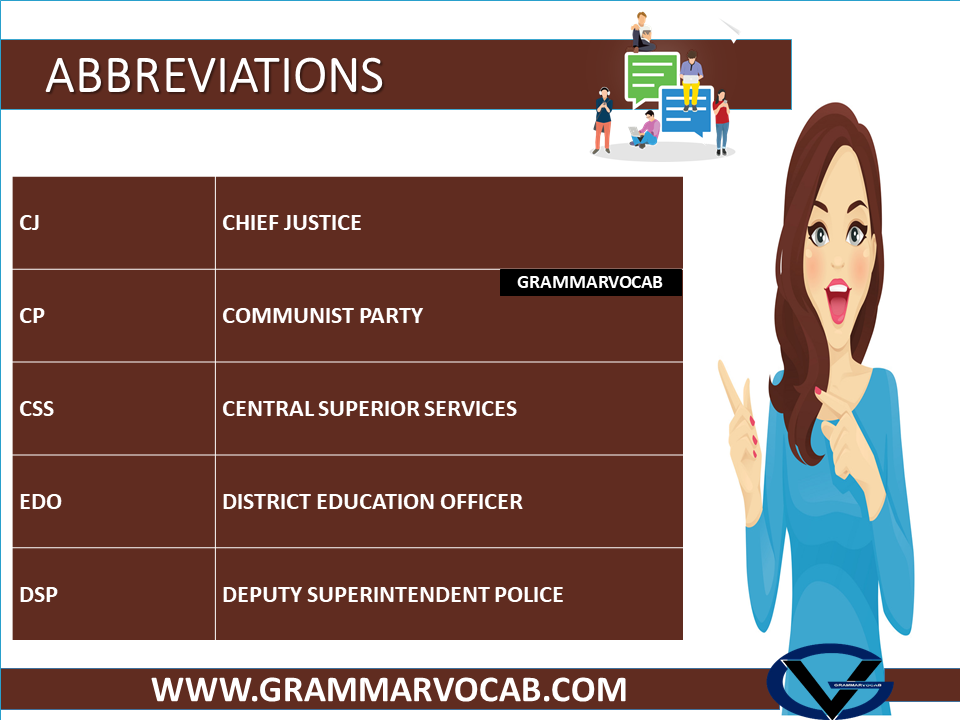 ABBREVIATION FOR WORDS PDF