The masculine and feminine gender of animals: Many English students neglect the male and female characteristics of animals. The male and female names of animals in English are extremely important.
You may download a pdf file of this full lesson at the bottom of this post.
Masculine Gender of Animals
'Masculine Gender' denotes a male living thing. I.e. Bull, Boar, ox, etc.
Feminine Gender of Animals
'Feminine Gender' denotes a female living thing. I.e. sow, cow, hen, etc.
Masculine and Feminine Gender of Animals Pictures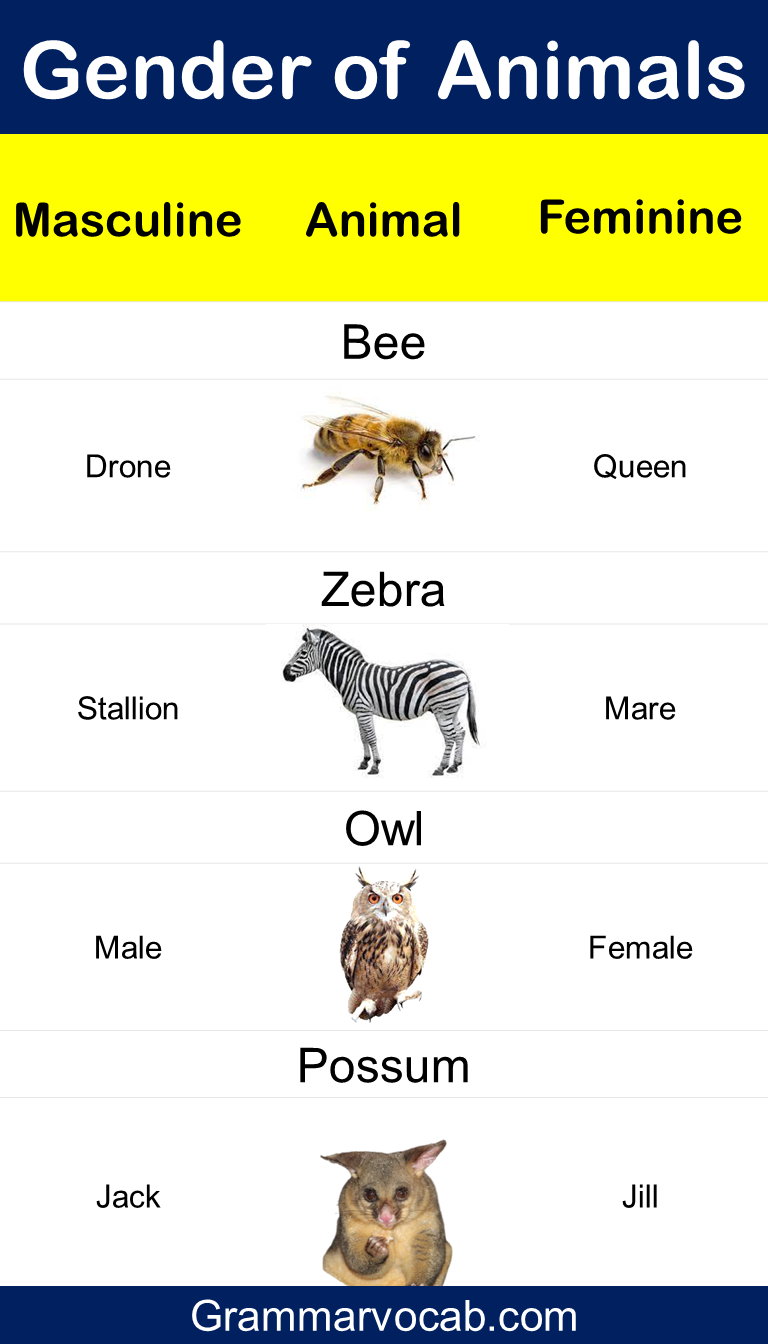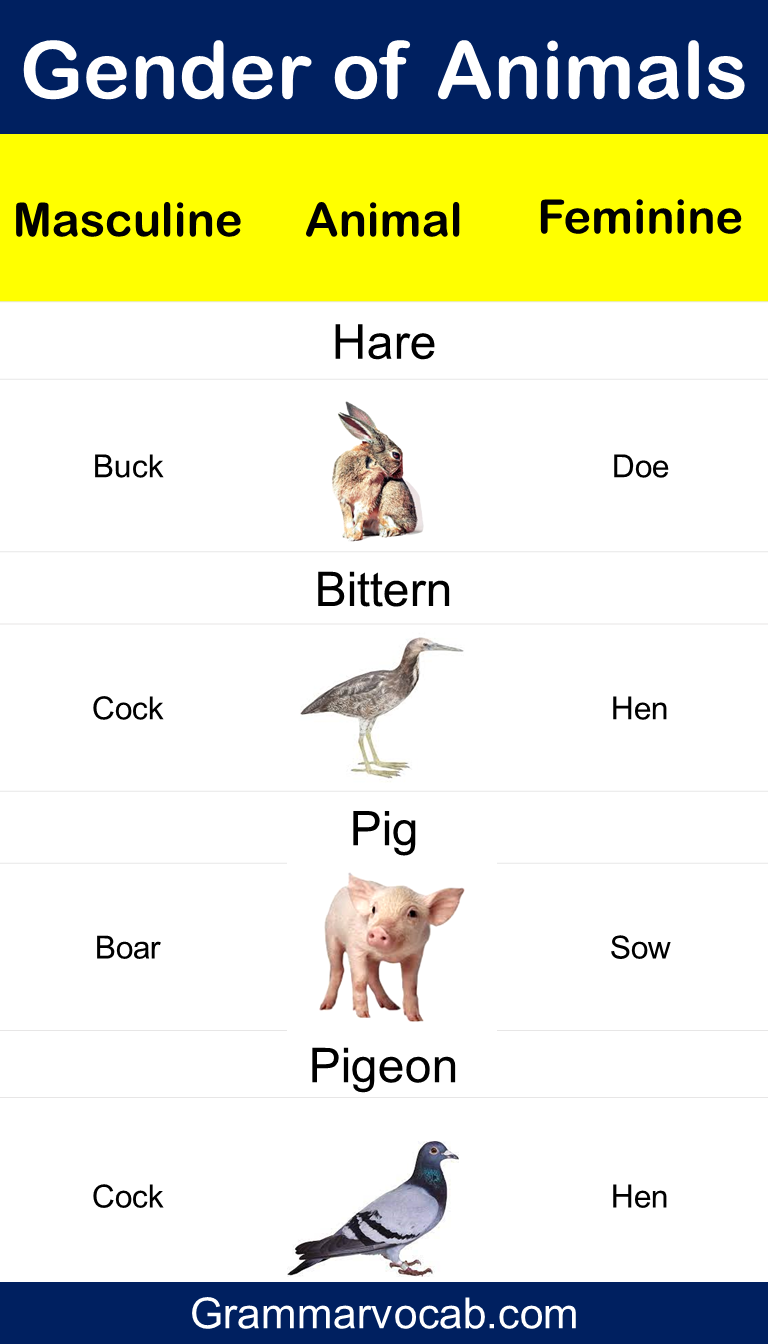 Masculine and Feminine Gender of Animal
| | | |
| --- | --- | --- |
| Animal | Masculine | Feminine |
| Bee | Drone | Queen |
| Zebra | Stallion | Mare |
| Owl | Male | Female |
| Possum | Jack | Jill |
| Hare | Buck, Jack | Doe |
| Bittern | Cock | Hen |
| Giraffe | Bull | Cow |
| Cattle | Bull | Cow |
| Pig | Boar | Sow |
| Pigeon | Cock | Hen |
| Dove | Cock | Hen |
| Squirrel | Buck | Doe |
| Crab | Jimmy, Cock | Hen |
| Peacock | Peacock | Peahen |
| Shark | Bull | Female |
| Swan | Cob | Pen |
| Mole | Boar | Sow |
| Crow | Cock | Hen |
| Rook | Cock | Hen |
| Sea Lion | Bull | Cow |
| Sparrow | Cock | Hen |
| Fish | Male | Female |
| Snake | Male | Female |
| Mule | John | Molly |
| Bison | Bull | Cow |
| Goose | Gander | Goose |
| Donkey | Jack, Jackass | Jennet, Jenny |
| Parrot | Cock | Hen |
| Fox | Dog, Todd, Reynard | Vixen |
| Grouse | Cock, Gorcock | Hen, Gorhen |
| Mallard | Drake | Hen |
| Magpie | Cock | Hen |
| Duck | Drake | Duck, Hen |
| Ferret | Hob | Jill, Gill |
| Rhinoceros | Bull | Cow |
| Raccoon | Boar | Sow |
| Monkey | Male | Female |
| Hamster | Buck | Doe |
| Deer | Buck, Stag, Hart | Doe, Hind, Cow |
| Buffalo | Bull | Cow |
| Goat | Billy, Buck | Nanny |
| Rabbit | Buck, Jack | Doe, Jill |
| Seal | Bull | Cow |
| Ant | Winged Males | Queens, Workers |
| Viper | Male | Female |
| Eagle | Male | Female |
| Camel | Bull | Cow |
| Frog | Male | Female |
| Fly | Male | Female |
| Grasshopper | Male | Female |
Male Female Animals List
| | | |
| --- | --- | --- |
| Animal | Masculine | Feminine |
| Dolphin | Bull | Cow |
| Gaur | Bull | Cow |
| Raven | Cock | Hen |
| Panda | Boar | Sow |
| Moose | Bull | Cow |
| Finch | Cock | Hen |
| Gorilla | Male | Female |
| Cheetah | Male | Female |
| Lion | Lion | Lioness |
| Mink | Boar | Sow |
| Crane | Cock | Hen |
| Polar Bear | Boar | Sow |
| Elephant | Bull | Cow |
| Sheep | Ram | Ewe |
| Chimpanzee | Blackback | Empress |
| Kangaroo | Buck, Jac | Jill, Flyer |
| Hyena | Dog | Bitch |
| Termite | Male | Female |
| Hawk | Tiercel | Hen, Haggard |
| Falcon | Tiercel | Falcon |
| Beetle | Male | Female |
| Badger | Boar | Sow |
| Wolf | Dog | Bitch |
| Penguin | Male | Female |
| Porcupine | Boar | Sow |
| Leopard | Leopard | Leopardess |
| Alligator | Bull | Cow |
| Turtle | Male | Female |
| Dog | Dog, Stud | Bitch, Dam |
| Otter | Boar | Sow |
| Bullock | Heifer | Cow |
| Mouse | Buck | Doe |
| Bird | Cock | Hen |
| Hornet | Drone | Queen |
| Reindeer | Buck | Doe |
| Ostrich | Cock | Hen |
| Nightingale | Cock | Hen |
| Llama | Macho | Hembra |
| Chicken | Rooster | Hen |
| Ape | Male | Female |
| Wallaby | Jack | Jill |
| Bat | Male | Female |
| Wombat | Jack | Jill |
| Hippopotamus | Bull | Cow |
| Aardvark | Boar | Sow |
| Turkey | Turkey-Cock | Turkey-Hen |
| Bear | Boar | Sow |
| Woodpecker | Cock | Hen |
| Gerbil | Buck | Doe |
| Porpoise | Bull | Cow |
| Coyote | Dog | Bitch |
| Crocodile | Bull | Cow |
| Rat | Buck | Doe |
| Cockroach | Male | Female |
| Spider | Male | Female |
| Tiger | Tiger | Tigress |
| Cat | Tom, Gib | Molly, Queen |
| Guinea Pig | Buck | Doe |
| Beaver | Male | Female |
| Yak | Bull | Cow |
| Horse | Stallion | Mare |
| Armadillo | Boar | Sow |
| Whale | Bull | Cow |
| Koala | Male | Female |
| Snail | Hermaphrodite | Hermaphrodite |
Check: Masculine Feminine Gender
Gender of Animals | Infographics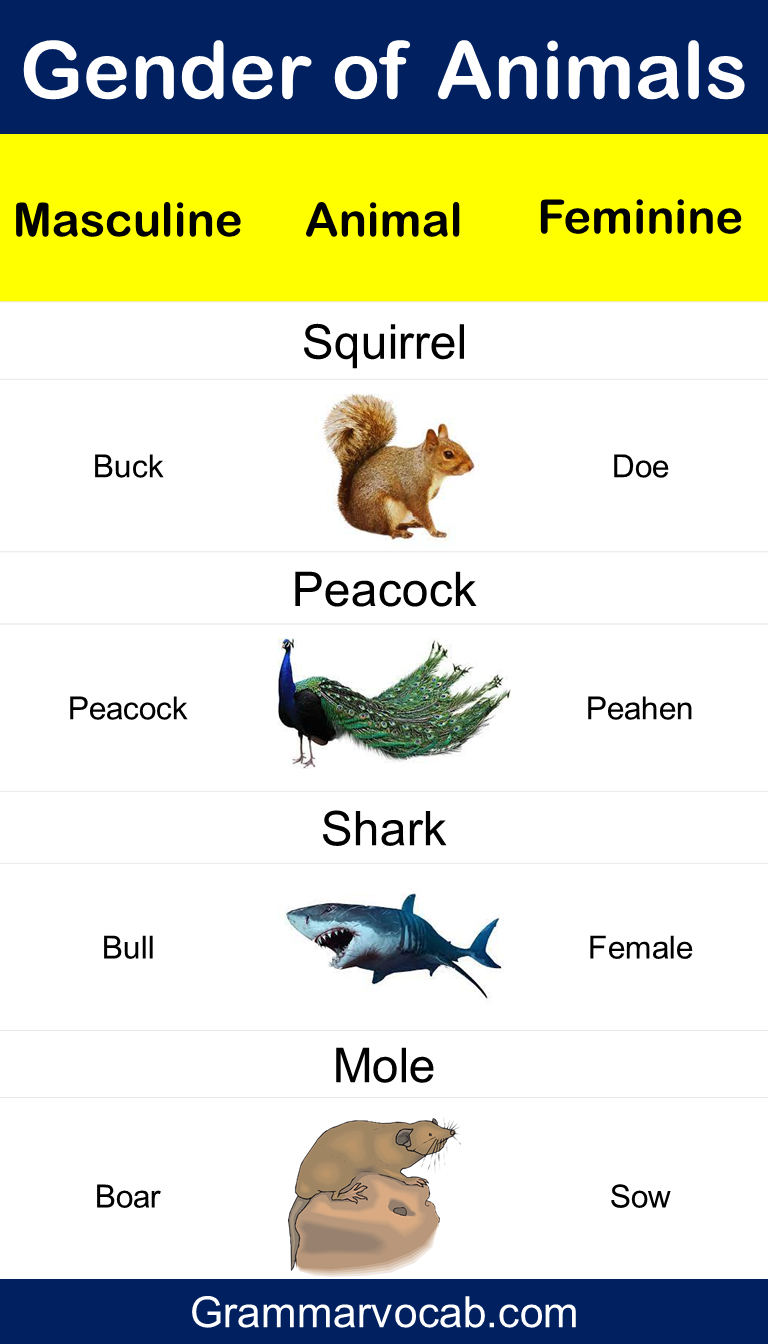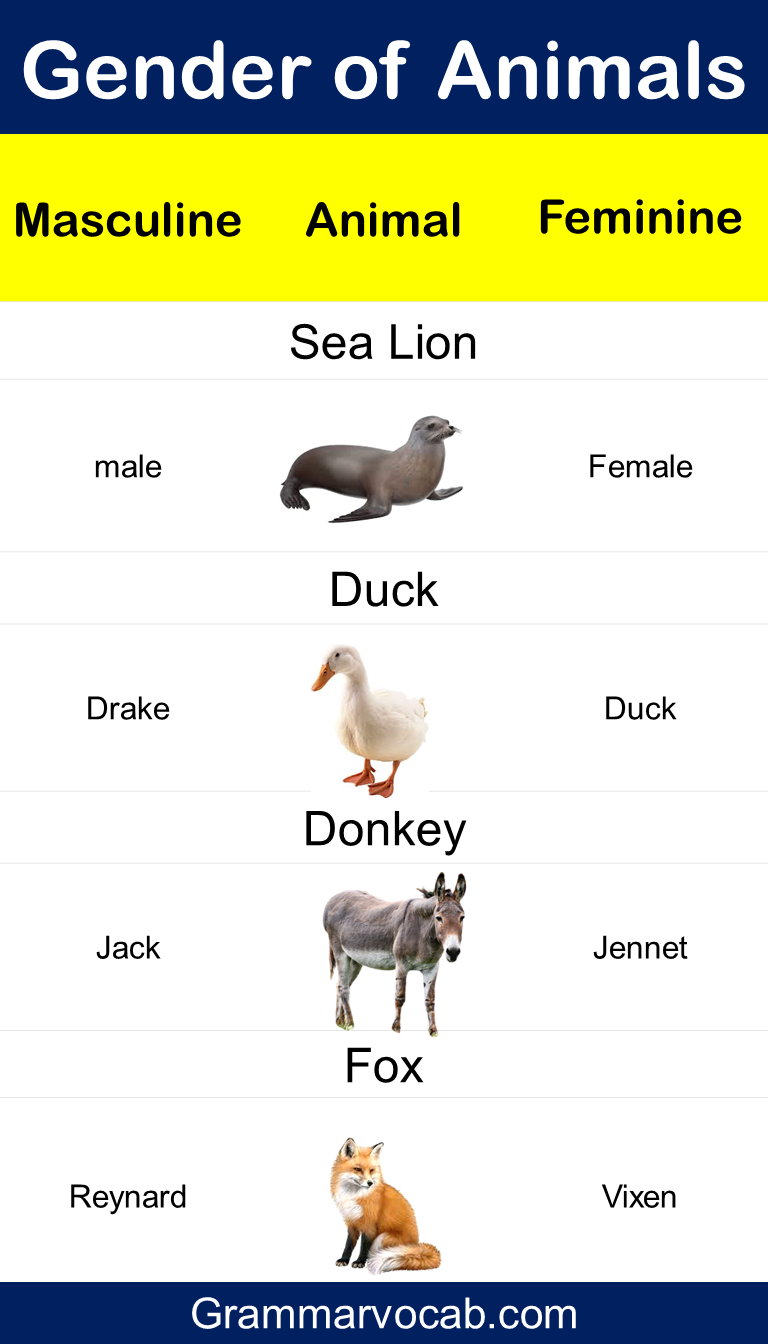 Download Masculine and Feminine Gender of Animals list