English Business Vocabulary Words! Do you ever feel lost when talking business with native English speakers? You're not alone! Even people who are fluent in English often have a hard time with business vocabulary words. This list of English business words will help you feel more confident in your conversations, and maybe even impress your colleagues! Where appropriate, I have included example sentences to show how the words can be used.
How can I improve my business vocabulary?
Improving your business vocabulary is essential for effective communication in the workplace. Here are some tips to help you enhance your business vocabulary:
Read business-related materials: Start by reading business-related books, articles, and magazines to gain exposure to business terms and jargon. You can also subscribe to newsletters or blogs related to your industry.
Use a dictionary: Keep a business dictionary handy and look up any unfamiliar terms you come across. This can help you understand the meaning and context of the words.
Attend seminars and conferences: Attend seminars, conferences, and networking events to learn from industry experts and gain exposure to new ideas and terminology.
Watch business-related shows and documentaries: Watch business-related shows and documentaries to see how professionals in your field use different terms and jargon.
Practice: Try to use new business terms in your conversations and writing. Practice makes perfect, so use the new terms until they become second nature.
Quiz yourself: Test your knowledge by creating flashcards or taking quizzes on business-related terms and concepts.
Ask for feedback: Ask colleagues or mentors for feedback on your communication skills, including your use of business vocabulary. They may be able to provide insights and suggestions for improvement.
Remember, building your business vocabulary takes time and practice, but with persistence, you can improve your communication skills and enhance your career prospects.
What words attract customers?
Using the right words and language can be a powerful tool in attracting and engaging customers. Here are some types of words that can be effective in attracting customers:
Power words: Power words are words that evoke strong emotions and feelings in the reader, such as "amazing," "incredible," "life-changing," "unforgettable," and "transformative."
Benefit-focused words: Customers want to know what's in it for them, so using benefit-focused words like "improve," "enhance," "boost," "maximize," and "optimize" can be effective in getting their attention.
Urgency words: Creating a sense of urgency can be a powerful motivator for customers to take action. Words like "limited time," "act now," "last chance," "urgent," and "hurry" can create a sense of urgency and encourage customers to take action.
Persuasive words: Persuasive words are those that help persuade customers to take action, such as "proven," "trusted," "recommended," "guaranteed," and "certified."
Descriptive words: Using descriptive words to paint a vivid picture of your product or service can be effective in engaging customers. Words like "delicious," "luxurious," "exquisite," "sleek," and "stylish" can create a powerful visual image in the customer's mind.
Remember, it's important to use these words in a way that is relevant and appropriate for your product or service and target audience. Using too many powerful words or creating false urgency can come across as insincere and turn customers off. So, use these words thoughtfully and strategically to attract and engage your ideal customers.
English Business Vocabulary Words
Statement
Benefits
Net
Capitalist
Import
Corporate
Commodity
Budget
Proxy
Entrepreneur
Petty cash
Mouse pad
Intern
Authorization
Feedback
Consumer
Quarter
Accruals
Profit
Increase
Freight
Business
Vacancy
Facility
Receipt
No-win
Retail
Promotion
Calculate
Policy
Customer
Signature
Commercial
Unsocial hours
Spreadsheet
Order
Gross
Manager
Report
Borrow
Superintendent
Invoice
Leave
Wholesale
Lend
Quarterly
Laptop
Distribution
Discount
Billboard
Pay
Log-in
Temp
Product
Refund
Boss
Tax
Commission
Part-time
Corner office
Profitable
Plan
Username
Scarcity
Incentive
Hire
Brand
Union
Recruiter
Target
Supervisor
Output
Demand
Equipment
Employer
Purchase order
Packing list
Meeting
Credit card
Duty
Position
Recruit
Lead
Invest
Interview
Banknote
Trade-off
Fund
Capital
Ads
Paperweight
Dividend
Lease
Management
Department
Rank
Proposal
Employ
Purchase
Director
Strike
Market
Sell
Deadline
Risk
Notebook
Industry
Costs
Online
Chairman
Wholesaler
Retire
Framework
Company
Yield
Mogul
Venture
Investment
Occupation
Diversify
Unit cost
Sale
Penalty
Money
Bonus
Upload
Guarantee
Break even
Agreement
Export
Bond
Shop
President
Biannual
Secretary
Launch
Workspace
Full-time
Owner
High
Financial
Trade
Loan
Client
Interest rate
Growth
Shipping
Debt
Agenda
Offline
Niche
Income
Contract
Upgrade
Negotiation
Mailbox
Figures
Deficit
Workroom
Stockholder
Letterhead
Economy of scale
Typeface
Personnel
Overhead
Delivery
Principal
Cold call
Warranty
Overdraft
Estimate
Employment
Buyer
Labor
Accounting
Coupon
Supply
Office
Notice
Collateral
Sign
Currency
Partner
Career
Trend
Buy
Interest
Outgoing
Job
Clause
Foreman
Copyright
Transaction
Public holidays
Service
Price
Hourly
Confirmation
Work
Application
Withdraw
Remuneration
Password
Monthly
Income tax
Bookkeeping
Merchant
Headquarters
Guidebook
Efficiency
Treasury
Prospects
Saleswoman
Corporation
Employee
Co-worker
Wastebasket
Volume
Sick leave
Goal
Deal
Merger
Experience
Overtime
Economics
Production
Lucrative
Win-win
Credit
Prime rate
Board of directors
Briefcase
Vice-president
Offer
Duties
Competition
Shareholder
Fax
Rise
Insurance
Resign
Monopoly
Charge
Advertise
Purchasing
Shipment
Quit
Trademark
Cost
Factory
Network
Expenses
Bill of lading
Advertisement
Vacation time
Inflation
Perk
Hours
Terms
Motherboard
Presentation
Fire
Maternity leave
Database
Tariff
Download
Merchandise
Advantage
Finance
Compromise
Weekly
Debit
Annual
Stock
Down payment
Salary
Inventory
Typewriter
Support
Retailer
Manage
Facilities
Goods
Disadvantage
Dismiss
Bottom line
Staff
Salesman
Economical
Arbitration
Make redundant
Headhunter
Portfolio
Loss
Low
Affordable
Liability
Decrease
Business card
English Business Vocabulary Words | Images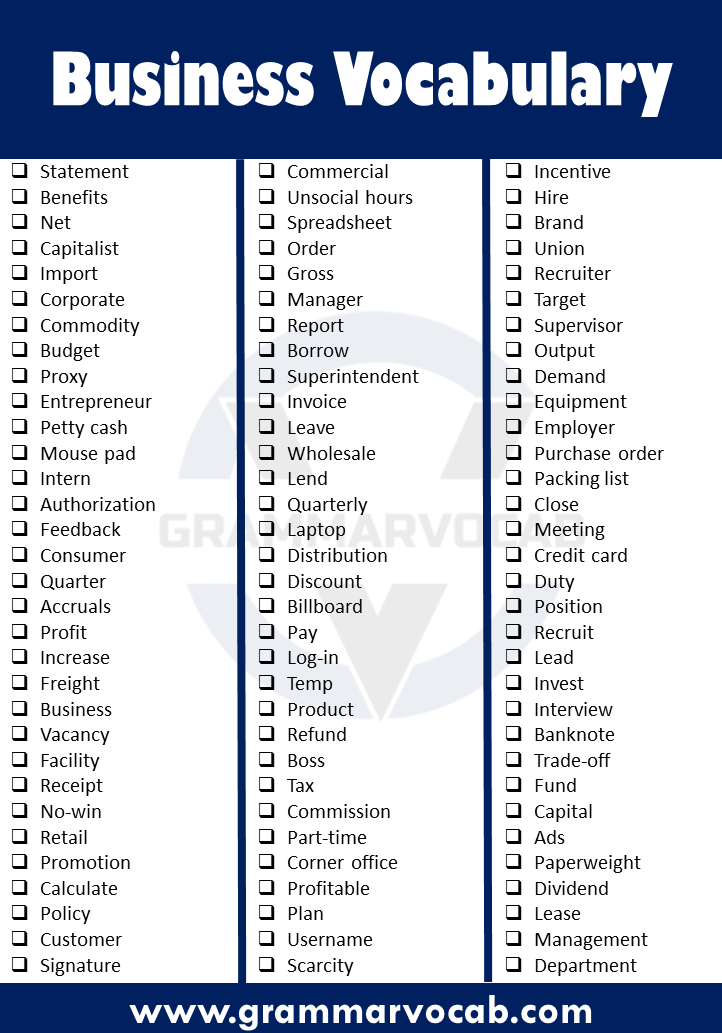 International Business Vocabulary
Credit
Secretary
Weekly
Offline
Wage
Gross
Finance
President
Board
Overtime
Copyright
Net worth
Monthly
Volume
Customer
Memo
Insurance
Upload
Public holidays
Advantage
Typeface
Efficiency
Board of directors
Retail
Facilities
Capital
Position
Chairwoman
Import
Username
Purchase order
Co-worker
Billboard
Lucrative
Signature
Merchandise
Saleswoman
Laborer
Deflation
Buy
Guarantee
Rise
Invest
Unemployment
Corporation
Coupon
Strike
Headquarters
Production
Boss
Delivery
Application
Employee
Guidebook
Commission
Biannual
Lease
Resign
Sick leave
Monopoly
Win-win
Leave
Capitalist
Presentation
Incentive
Overhead
Purchase
Cubicle
Investment
Quarterly
Negotiation
Retire
Estimate
Offer
Freight
Foreman
Penalty
Policy
Vacation time
Collateral
Withdraw
Borrow
Wholesale
Shop
Quarter
Shipping
Interest
Product
Headhunter
Promotion
Fire
Debit
Economy of scale
Wholesaler
Fund
Bookkeeping
Password
Management
Work
Entrepreneur
Bottom line
Framework
Duties
Budget
Motherboard
Typewriter
No-win
Compromise
Unit cost
Commerce
Economics
Benefits
Professional Business Vocabulary
Tariff
Experience
Letterhead
Manager
Distribution
Yield
Proposal
Online
Lend
Inventory
Fax
Petty cash
Income tax
Scarcity
Demand
Organization
Bill of lading
Terms
Quit
Cold call
Break-even
Dismiss
Remuneration
Tax
Accruals
Down payment
Opportunity
Credit card
Currency
Agenda
Log-in
Order
Consumer
Cost
Proxy
Market
Office
Database
Duty
Laptop
Niche
Costs
Retailer
Plan
Video conference
Temp
Clause
Loan
Workspace
Accounts
Interest rate
Shipment
Portfolio
Contract
Purchasing
Cashier
Profit
Director
Income
Venture
Trademark
Vice-president
Economical
Sign
Mainframe
Deal
Stock
Unsocial hours
Merchant
Dividend
Liability
Deficit
Employer
Confirmation
Wastebasket
Banknote
Growth
Spreadsheet
Partner
Outgoing
Decrease
Job
Deadline
Marketing
Interview
Risk
Rank
Business
Goal
Negotiate
Business card
Payment
Occupation
Authorization
Advertise
Treasurer
Superintendent
Success
Report
Corporate
Notice
Launch
Pay
Earning
Advertisement
Shareholder
Manage
Close
Career
Diversify
Hours
Recruiter