Welcome to our helpful guide on descriptive words that start with the letter "B." Whether you enjoy writing, want to improve your vocabulary or just love language, this list is for you! We've gathered a collection of exciting adjectives and adverbs that begin with "B" to make your writing more colorful and expressive. From beautiful to brave, we'll explore a range of words that can bring your writing to life. Get ready to be inspired and discover new ways to create vivid images and evoke strong feelings with these descriptive words starting with "B." Let's begin.
Define Descriptive words
A descriptive word is one that is used to describe anything, such as a person, a location, a condition, or an object, among other things. These words allow you to better describe the state of something. There are different kinds of descriptive words:
In the English language, adjectives are very significant and useful. They enable us to describe the objects around us, which is useful in a variety of circumstances.
List of Descriptive Words With B
Beaming
Boundless
Bent
Brainy
Balmy
Bearing
Blushing
Brackish
Brotherly
Blissful
Beginning
Balanced
Beautiful
Blest
Blessed
Breathtaking
Brazen
Breezy
Blue-ribbon
Benignant
Bacterial
Bonkers
Brittle
Bonny
Bounteous
Benign
Brisk
Budget
Busty
Buff
Bomb
Bouncy
Blazing
Bijou
Bookish
Bright
Botanical
Bootylicious
Beloved
Bovine
Bejeweled
Bonzer
Burly
Bullish
Boisterous
Beguiling
Brilliant
Banging
Beefy
Beatific
Bracing
Baronial
Bashful
Brave
Brash
Budding
Blistering
Beneficiary
Best
Beneficent
Benevolent
Bell-like
Bombastic
Businesslike
Beady
Broadminded
Better
Bewitching
Blithe
Benefic
Belligerent
Brawny
Bicameral
Big
Biggest
Big-time
Big-hearted
Bulimic
Bold
Blameless
Buxom
Blooming
Ballsy
Beautified
Bound
Bustling
Bubbly
Burnished
Beauteous
Broad
Boon
Brimming
Brill
Bountiful
Believable
Bulletproof
Balsamic
Bodacious
Bosom
Buoyant
Backup
Benedictory
Brief
Descriptives Start With B Images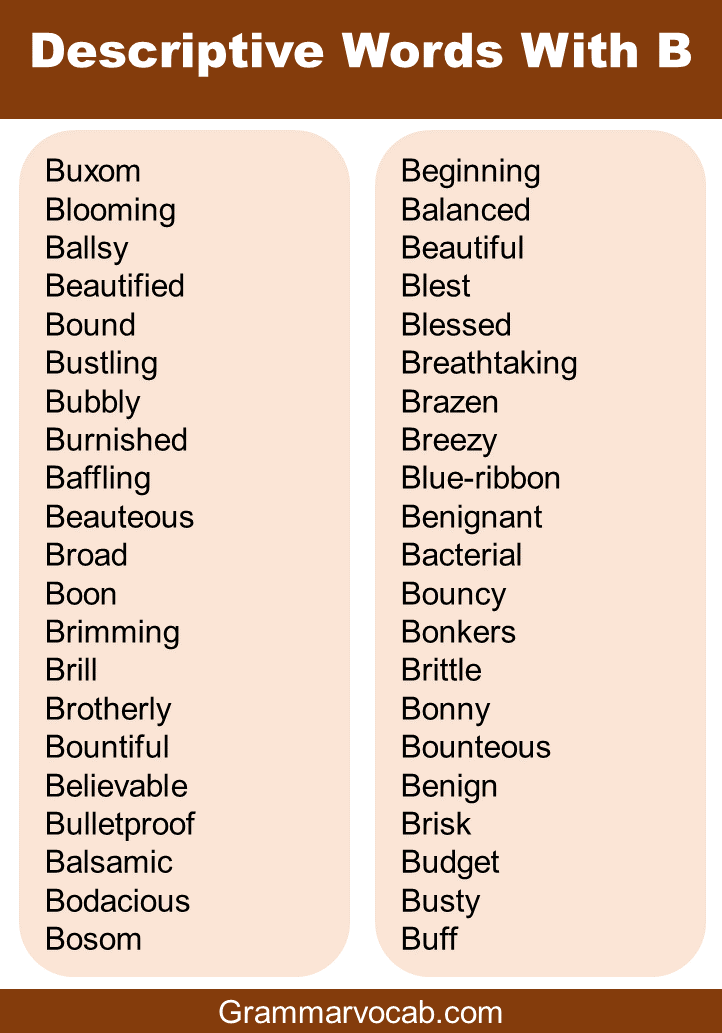 Download Descriptive Words Start With B PDF