Photography is an art form that has been around for centuries, capturing the beauty and essence of life through a lens. As with any art form, it has its own vocabulary that can be confusing for beginners and even seasoned photographers. Understanding the language of photography is essential for anyone who wants to take their skills to the next level. In this blog post, we will introduce you to the photography vocabulary words, so you can feel more confident and knowledgeable about this beautiful art form.
Download Photography Vocabulary Pdf
Photography Descriptive Words
Here are some descriptive words for photography:
Beautiful
Breathtaking
Candid
Charming
Creative
Dreamy
Emotional
Enchanting
Expressive
Fascinating
Gorgeous
Haunting
Immaculate
Impressive
Inspiring
Intimate
Mysterious
Natural
Nostalgic
Passionate
Peaceful
Playful
Powerful
Profound
Pure
Raw
Reflective
Romantic
Sensational
Serene
Stunning
Timeless
Touching
Unique
Vibrant
Vintage
Whimsical
Wonderful
Youthful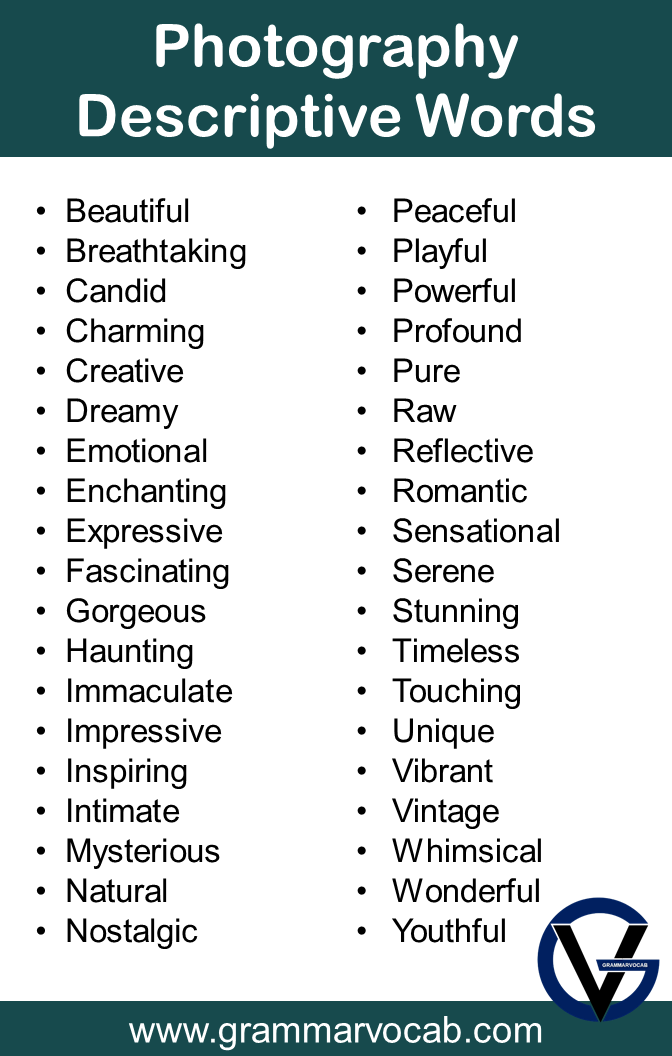 Fancy Word for Photography
here is a list of fancy photography words:
Aesthetics
Ambience
Artistic
Atmosphere
Captivating
Chromatic
Composure
Contrast
Dramatic
Elegance
Enchantment
Ethereal
Exquisite
Fascination
Glamour
Illumination
Impressionistic
Luminosity
Majestic
Mosaic
Mystical
Nuance
Opulence
Panoramic
Poetic
Radiance
Reflection
Romanticism
Serenity
Shimmering
Silhouette
Sophistication
Splendor
Symmetry
Texture
Timelessness
Transcendence
Transfixing
Translucent
Twilight
Vibrance
Vividness
Wanderlust
Whimsy
Zen
Zest
Zeitgeist
Zenith
Zoomorphic
Basic Photography Vocabulary Words
If you're new to photography, it can be overwhelming to understand all the terms and jargon used in the field. Here are some basic photography vocabulary that every beginner should know:
Bokeh – Blurry background
Zoom Burst – Creative zoom effect
Rule of Thirds – Composition guideline
Bracketing – Multiple exposures
Viewfinder – Optical camera preview
Shutter – Camera door
Flash – Artificial light
Vignette – Darkened corners of an image
ISO – Light sensitivity
Exposure – Image brightness
Zoom – Variable focal length
Reflector – Light bouncing tool
Aperture – Lens opening
Lens – Camera glass
Focal Length – Lens distance
Wide Angle – Lens with a wider field of view
Megapixel – Image resolution
Composition – Image arrangement
Saturation – Color intensity
Tripod – Camera support
Depth of Field – Focused area
ND Filter – Neutral density filter
Histogram – Image brightness graph
Aspect Ratio – Image shape
Golden Hour – Time of day for soft light
Polarizing Effect – Filter effect that enhances colors
Chromatic Aberration – Color fringing
Bokeh Balls – Out of focus light sources
Softbox – Diffused light source
Shutter Speed – Exposure time
Exposure Compensation – Adjusting exposure manually
Kelvin – Color temperature measurement
Image Stabilization – Camera shake reduction
Polarizer – Filter for reducing glare
Low Key – Dark and shadowy image
Monochrome – Black and white image
Spot Metering – Exposure measurement for a small area
Aspect Ratio – Image proportions.
Color Space – Range of colors available
Sensor – Camera chip
White Balance – Color accuracy
Contrast – Difference between light and dark areas
Telephoto – Lens with a narrow field of view
Focus – Sharpness
RAW – Unprocessed image file
Light Meter – Exposure measurement tool
Noise – Image grain
Essential Photography Vocabulary
Here are essential photography vocabulary words for professional photographers, along with their meanings:
Burst Mode – Continuous shooting mode
Hot Shoe – Camera flash mount
Fill Light – Additional light source
DSLR – Digital Single Lens Reflex camera
Autofocus – Automatic focusing
Luminosity Mask – Masking based on brightness
Medium Format – Larger sensor size
Grain – Image noise
Diffuser – Light softening tool
Panorama – Stitching multiple images together
Noise Reduction – Reducing image noise
Dynamic Range – Range of light captured by a camera
Key Light – Main light source
Hyperfocal Distance – Focal distance for maximum depth of field
Lens Flare – Unwanted light reflection
Flash Sync Speed – Maximum shutter speed with flash
TTL – Through the lens flash metering
Prime Lens – Lens with a fixed focal length
Crop Factor – Sensor size ratio
Also Learn: Musical Instrument Names with Pictures