In healthcare, medical abbreviations are a vital shorthand for professionals but can be confusing for outsiders. This article demystifies these abbreviations, making them accessible to everyone. It's beneficial not only for medical practitioners and students but also for patients, helping them understand medical notes and communicate better with healthcare providers. Covering common terms in prescriptions to complex ones in medical records, this guide aims to enhance clarity and knowledge in healthcare communication.
What is abbreviation?
Acronyms are abbreviations that have become so integral to our language that they have become part of common English. English is a language that has evolved rapidly over the last few centuries and as the world has modernized, new terms have been coined and old terms have fallen out of favor.
Shortening words can be a challenge, especially when it comes to writing in English. English has many abbreviations that come from different languages such as the Latin abbreviations, like U.S and S.A for the United States and Spain respectively; or from other languages such as the British abbreviations for big things like a chip, which is short for computer chip or laptop.
What are medical Abbreviations?
The abbreviations that are used by the doctors, nurses, or other medical professional people to write a description known as medical abbreviations.
A to Z Medical Abbreviations List
Medical abbreviations can be quite extensive, but I can certainly provide a selection of common ones across different letters of the alphabet. This list won't be exhaustive but should give you a good overview of some commonly used medical abbreviations:
| | |
| --- | --- |
| AD |  autonomic dysreflexia |
| AV |  atrioventricular |
| ASD |  atrial septal defect |
| AF |  atrial fibrillation or afebrile |
| ASHD |  atherosclerotic heart disease |
| ASCVD |  atherosclerotic cardiovascular disease |
| ASAP |  as soon as possible |
| ad lib |  as much as needed |
| A-VO2 |  arteriovenous oxygen |
| A-V |  arteriovenous |
| ABG |  arterial blood gas |
| AS |  aortic stenosis |
| AI |  aortic insufficiency |
| ANA |  antinuclear antibody |
| ADH |  anti-diuretic hormone |
| AP |  anteroposterior or abdominal |
| AFO |  ankle foot orthosis |
| ASIA |  American Spinal Injury Association |
| amb |  ambulate |
| A-a gradient |  alveolar to arterial gradient |
| AFP |  alpha-fetoprotein |
| AOB |  alcohol on breath |
| A/G |  albumin/globulin ratio |
| ACLS |  advanced cardiac life support |
| AODM |  adult onset diabetes mellitus |
| ACTH |  adrenocorticotropic hormone |
| ARDS |  acute respiratory distress syndrome |
| ARF |  acute renal failure |
| AML |  acute myelogenous leukemia |
| ALL |  acute lymphocytic leukemia |
| AAS |  acute abdominal series |
| ADL |  activity of daily living |
| AFB |  acid-fast bacilli |
| AKA |  above the knee amputation |
| AAA |  abdominal aortic aneurysm |
| ABD |  abdomen |
|  perineal | |
| | |
| --- | --- |
| bid |  twice a day |
| BBB |  bundle branch block |
| BRBPR |  bright red blood per rectum |
| BCAA |  branched chain amino acids |
| BS |  bowel or breath sounds |
| BC |  bowel care |
| BM |  bone marrow or bowel movement |
| BW |  body weight |
| BUN |  blood urea nitrogen |
| BP |  blood pressure |
| BX |  biopsy |
| BOM |  bilateral otitis media |
| bilat |  bilateral |
| BPH |  benign prostatic hypertrophy |
| BKA |  below the knee amputation |
| BPM |  beats per minute |
| BRP |  bathroom privileges |
| BMR |  basal metabolic rate |
| BEE |  basal energy expenditure |
| BE |  barium enema |
| | |
| --- | --- |
| CMV |  cytomegalovirus |
| CF |  cystic fibrosis |
| CVAT |  CVA tenderness |
| C&S |  culture and sensitivity |
| CAA |  crystalline amino acids |
| CCV |  critical closing volume |
| CPK |  creatinine phosphokinase |
| CRCL |  creatinine clearance |
| CRP |  C-reactive protein |
| CN |  cranial nerves |
| CAD |  coronary artery disease |
| CABG |  coronary artery bypass graft |
| CPAP |  continuous positive airway pressure |
| CHF |  congestive heart failure |
| CT |  computerized tomography |
| CAT |  computerized axial tomography |
| CBC |  complete blood count |
| C/O |  complaining of |
| CCU |  clean catch urine or cardiac care unit |
| CRF |  chronic renal failure |
| COPD |  chronic obstructive pulmonary disease |
| COLD |  chronic obstructive lung disease |
| CML |  chronic myelogenous leukemia |
| CGL |  chronic granulocytic leukemia |
| CC |  chief complaint |
| CXR |  chest X-ray |
| CP |  chest pain or cerebral palsy |
| CSW |  certified social worker |
| CSF |  cerebrospinal fluid |
| CVP |  central venous pressure |
| CNS |  central nervous system |
| CPR |  cardiopulmonary resuscitation |
| CO |  cardiac output |
| CI |  cardiac index |
| CHO |  carbohydrate |
| CBG |  capillary blood gas |
| CA |  cancer |
| Ca |  calcium |
| | |
| --- | --- |
| DOE |  dyspnea on exertion |
| DNR |  do not resuscitate |
| DIP |  distal interphalangeal joint |
| DAW |  dispense as written |
| DC |  discontinue or discharge |
| DPT |  diphtheria, pertussis, tetanus |
| D&C |  dilation and curettage |
| DDx |  differential diagnosis |
| DAT |  diet as tolerated |
| DPL |  diagnostic peritoneal lavage |
| DX |  diagnosis |
| DKA |  diabetic ketoacidosis |
| DM |  diabetes mellitus |
| DI |  diabetes insipidus |
| DNA |  deoxyribonucleic acid |
| DJD |  degenerative joint disease |
| DVT |  deep venous thrombosis |
| DTR |  deep tendon reflexes |
| dL |  deciliter |
| DOA |  dead on arrival |
| D5W |  5% dextrose in water |
| | |
| --- | --- |
| EOM |  extraocular muscles |
| ECD |  external continence device |
| EUA |  examination under anesthesia |
| ETOH |  ethanol |
| EBL |  estimated blood loss |
| EFAD |  essential fatty acid deficiency |
| EAA |  essential amino acids |
| ESR |  erythrocyte sedimentation rate |
| ED |  erectile dysfunction |
| ETT |  endotracheal tube |
| ET |  endotracheal |
| EMG |  Electromyogram |
| ECT |  electroconvulsive therapy |
| ECG |  electrocardiogram |
| ENT |  ears, nose, and throat |
| | |
| --- | --- |
| FRC |  functional residual capacity |
| FES |  functional electrical stimulation |
| FFP |  fresh frozen plasma |
| Fx |  fracture |
| FVC |  forced vital capacity |
| FEV |  forced expiratory volume |
| FU |  follow-up |
| FUO |  fever of unknown origin |
| FBS |  fasting blood sugar |
| FTT |  failure to thrive |
| | |
| --- | --- |
| GSW |  gun shot wound |
| gr |  grain; 1 grain = 65mg |
| GXT |  graded exercise tolerance |
| GC |  gonorrhea |
| GTT |  glucose tolerance test |
| GFR |  glomerular filtration rate |
| GU |  genitourinary |
| GETT |  general by endotracheal tube |
| GI |  gastrointestinal |
| gt or gtt |  drops |
| | |
| --- | --- |
| HTN |  hypertension |
| HIV |  human immunodeficiency virus |
| HCG |  human chorionic gonadotropin |
| HPI |  history of present illness |
| HO |  history of |
| Hx |  history |
| HLA |  histocompatibility locus antigen |
| HPF |  high power field |
| HDL |  high density lipoprotein |
| HBP |  high blood pressure |
| HSV |  herpes simplex virus |
| HSM |  hepatosplenomegaly |
| HJR |  hepatojugular reflex |
| HAA |  hepatitis B surface antigen |
| HAV |  hepatitis A virus |
| Hgb |  hemoglobin |
| HCT |  hematocrit |
| HR |  heart rate |
| HA |  headache |
| HEENT |  head, eyes, ears, nose, throat |
| HOB |  head of bed |
| HS |  at bedtime |
| | |
| --- | --- |
| IVP |  intravenous pyelogram |
| INF |  intravenous nutritional fluid |
| IV |  intravenous |
| IM |  intramuscular |
| IT |  interthecal |
| IPPB |  intermittent positive pressure breathing |
| IMV |  intermittent mandatory ventilation |
| ICS |  intercostal space |
| ICU |  intensive care unit |
| I&O |  intake and output |
| IRDM |  insulin resistant diabetes mellitus |
| IDDM |  insulin dependent diabetes mellitus |
| ID |  infectious disease or identification |
| IRBBB |  incomplete right bundle branch block |
| I&D |  incision and drainage |
| IG |  immunoglobulin |
| ITP |  idiopathic thrombocytopenic purpura |
| IHSS |  idiopathic hypertropic subaortic stenosis |
| | |
| --- | --- |
| JVD |  jugular venous distention |
| JODM |  juvenile onset diabetes mellitus |
| | |
| --- | --- |
| KAFO |  knee ankle foot orthosis |
| KT |  kinesio therapy or kinesiotherapist |
| KUB |  kidneys, ureters, bladder |
| KVO |  keep vein open |
| KOR |  keep open rate |
| | |
| --- | --- |
| LE |  lupus erythematosus |
| LP |  lumbar puncture |
| LDL |  low density lipoprotein |
| LPN |  licensed practical nurse |
| LVH |  left ventricular hypertrophy |
| LVEDP |  left ventricular end diastolic pressure |
| LV |  left ventricle |
| LUL |  left upper quadrant |
| LLL |  left lower lobe |
| LIH |  left inguinal hernia |
| LBBB |  left bundle branch block |
| LAD |  left axis deviation or left anterior descending |
| LAE |  left atrial enlargement |
| LAHB |  left anterior hemiblock |
| L |  left |
| LNMP |  last normal menstrual period |
| LMP |  last menstrual period |
| LDH |  lactate dehydrogenase |
| | |
| --- | --- |
| MI |  myocardial infarction or mitral insufficiency |
| MVI |  multivitamin injection |
| MVA |  motor vehicle accident |
| MAO |  monoamine oxidase |
| mmol |  millimole |
| mL |  milliliter |
| MLE |  midline episiotomy |
| MSSA |  methicillin-sensitive staph aureus |
| MRSA |  methicillin resistant staph aureus |
| MUSE |  medicated urethral system erection |
| MAST |  medical antishock trousers |
| MMR |  measles, mumps, rubella |
| MCV |  mean cell volume |
| MCHC |  mean cell hemoglobin concentration |
| MCH |  mean cell hemoglobin |
| MAP |  mean arterial pressure |
| MVV |  maximum voluntary ventilation |
| MMEF |  maximal mid expiratory flow |
| MBT |  maternal blood type |
| MRI |  magnetic resonance imaging |
| | |
| --- | --- |
| NMR |  nuclear magnetic resonance |
| NPO |  nothing by mouth |
| NSR |  normal sinus rhythm |
| NSAID |  non-steroidal anti-inflammatory drugs |
| NIDDM |  non-insulin dependent diabetes mellitus |
| NRM |  no regular medications |
| NKDA |  no known drug allergies |
| NKA |  no known allergies |
| NED |  no evidence of recurrent disease |
| NAS |  no added salt |
| NAD |  no active disease |
| NCV |  nerve conduction velocity |
| NT |  nasotracheal |
| NG |  nasogastric |
| ng |  nanogram |
| | |
| --- | --- |
| OD |  overdose or right eye |
| OOB |  out of bed |
| OM |  otitis media |
| OPV |  oral polio vaccine |
| OCG |  oral cholecystogram |
| OR |  operating room |
| OB |  obstetrics |
| OS |  left eye |
| OU |  both eyes |
| | |
| --- | --- |
| PPD |  purified protein derivative |
| PS |  pulmonic stenosis |
| PI |  pulmonic insufficiency disease |
| PFT |  pulmonary function tests |
| PCWP |  pulmonary capillary wedge pressure |
| PAP |  pulmonary artery pressure |
| PT |  prothrombin time, or physical therapy |
| PSA |  prostate-specific antigen |
| PPMS |  primary progressive multiple sclerosis |
| PMH |  previous medical history |
| PVC |  premature ventricular contraction |
| PAC |  premature atrial contraction |
| PTSD |  post-traumatic stress disorder |
| PP |  postprandial or pulsus paradoxus |
| PPS |  post-polio syndrome |
| POD |  post-op day |
| PA |  posteroanterior |
| PVR |  post voiding residual |
| PEEP |  positive end expiratory pressure |
| PMN |  polymorphonuclear leukocyte |
| PMI |  point of maximal impulse |
| pg |  picogram |
| PDR |  physicians desk reference |
| PKU |  phenylketonuria |
| PVD |  peripheral vascular disease |
| PaO2 |  peripheral arterial oxygen content |
| PTHC |  percutanous transhepatic cholangiogram |
| P&PD |  percussion and postural drainage |
| PUD |  peptic ulcer disease |
| Pt |  patient |
| PDA |  patent ductus arteriosus |
| PTT |  partial thromboplastin time |
| PAT |  paroxysymal atrial tachycardia |
| PND |  paroxysmal nocturnal dyspnea |
| PTH |  parathyroid hormone |
| P |  para |
| PRBC |  packed red blood cells |
| PR |  by rectum |
| PO |  by mouth |
| PRN |  as needed |
| PAO2 |  alveolar oxygen |
| PC |  after eating |
| | |
| --- | --- |
| Qt |  total cardiac output |
| Qs/Qt |  shunt fraction |
| QNS |  quantity not sufficient |
| qid |  four times a day |
| qod |  every other day |
| qh |  every hour |
| qd |  every day |
| q4h |  every 4 hours, every 6 hours etc. |
| q |  every |
| | |
| --- | --- |
| Rx |  treatment |
| R/O |  rule out |
| RVH |  right ventricular hyperthrophy |
| RUQ |  right upper quadrant |
| RUL |  right upper lobe |
| RML |  right middle lobe |
| RLQ |  right lower quadrant |
| RLL |  right lower lobe |
| RIH |  right inguinal hernia |
| RBBB |  right bundle branch block |
| RAP |  right atrial pressure |
| RAE |  right atrial enlargement |
| RAD |  right atrial axis deviation |
| R |  right |
| RNA |  ribonucleic acid |
| RA |  rheumatoid arthritis or right atrium |
| ROS |  review of systems |
| RTC |  return to clinic |
| RUG |  retrograde urethogram |
| RPG |  retrograde pyelogram |
| RBP |  retinol-binding protein |
| RT |  respiratory or radiation therapy |
| RU |  resin uptake |
| RV |  residual volume |
| RTA |  renal tubular acidosis |
| RRMS |  relapsing-remitting multiple sclerosis |
| RPMS |  relapsing-progressive multiple sclerosis |
| RRR |  regular rate and rhyth |
| RDW |  red cell distribution width |
| RBC |  red blood cell |
| RDA |  recommended daily allowance |
| ROM |  range of motion |
| RIA |  radioimmunoassay |
| | |
| --- | --- |
| sig |  write on label |
| s |  without |
| SEM |  systolic ejection murmur |
| SLE |  systemic lupus erythematous |
| SAA |  synthetic amino acid |
| Sx |  symptoms |
| SG |  Swan-Ganz |
| S&E |  sugar and acetone |
| sl |  sublingual |
| SOAP |  Subjective, Objective, Assessment, Plan |
| SQ |  subcutaneous |
| SBE |  subacute bacterial endocarditis |
| SVD |  spontaneous vaginal delivery |
| SCI/D |  spinal cord injury and disorder |
| SCI |  spinal cord injury |
| SW |  social worker |
| SGA |  small for gestational age |
| SBFT |  small bowel follow through |
| SMO |  slips made out |
| SA |  sinoatrial |
| SOB |  shortness of breath |
| SBS |  short bowel syndrome |
| SGPT |  serum glutamic-pyruvic transaminase |
| SGOT |  serum glutamic-oxaloacetic transaminase |
| SGGT |  serum gamma-glutamyl transpeptidase |
| SCr |  serum creatinine |
| SPMS |  secondary preogressive multiple sclerosis |
| ss |  one-half |
| STAT |  immediately |
| | |
| --- | --- |
| T&H |  type and hold |
| T&C |  type and cross |
| tw |  twice a week |
| TURBT |  TUR bladder tumors |
| TB |  tuberculosis |
| TU |  tuberculin units |
| TOPV |  trivalent oral polio vaccine |
| Tx |  treatment, transplant |
| TURP |  transurethral resection of prostate |
| TUR |  transurethral resection |
| TIA |  transient ischemic attack |
| TVH |  total vaginal hysterectomy |
| TPN |  total parenteral nutrition |
| TLC |  total lung capacity |
| TIBC |  total iron binding capacity |
| TBG |  total binding globulin |
| TAH |  total abdominal hysterectomy |
| TNTC |  too numerous to count |
| TKO |  to keep open |
| TV |  tidal volume |
| TSH |  thyroid stimulating hormone |
| TTP |  thrombotic thrombocytopenic purpura |
| TT |  thrombin time |
| tid |  three times a day |
| Td |  tetanus-diphtheria toxoid |
| TIG |  tetanus immune globulin |
| TMJ |  temporo mandibular joint |
| TO |  telephone order |
| | |
| --- | --- |
| ud |  use as directed |
| UUN |  urinary urea nitrogen |
| UTI |  urinary tract infection |
| UA |  urinalysis |
| UAC |  uric acid |
| URI |  upper respiratory infection |
| UGI |  upper gastrointestinal |
| US |  ultrasound |
| | |
| --- | --- |
| VCUG |  voiding cystourethrogram |
| VSS |  vital signs stable |
| VC |  vital capacity |
| VO |  verbal or voice order |
| V/Q |  ventilation |
| VMA |  vanillymadelic acid |
| | |
| --- | --- |
| WPW |  Wolf-Parkinson-White |
| WNL |  within normal limits |
| WB |  whole blood |
| WM |  white male |
| WF |  white female |
| WBC |  white blood cell or count |
| WN |  well nourished |
| WD |  well developed |
Medical Abbreviations | Images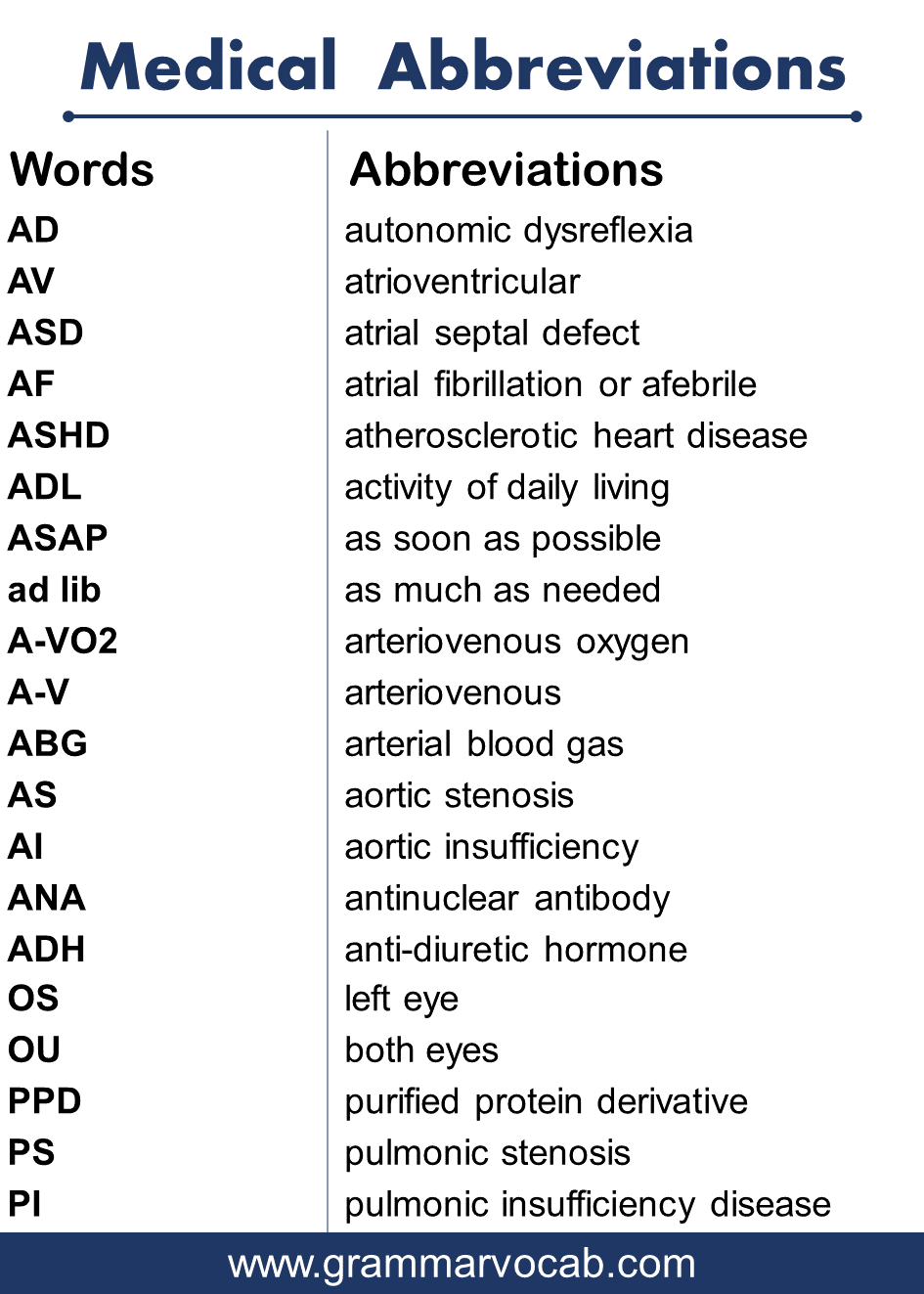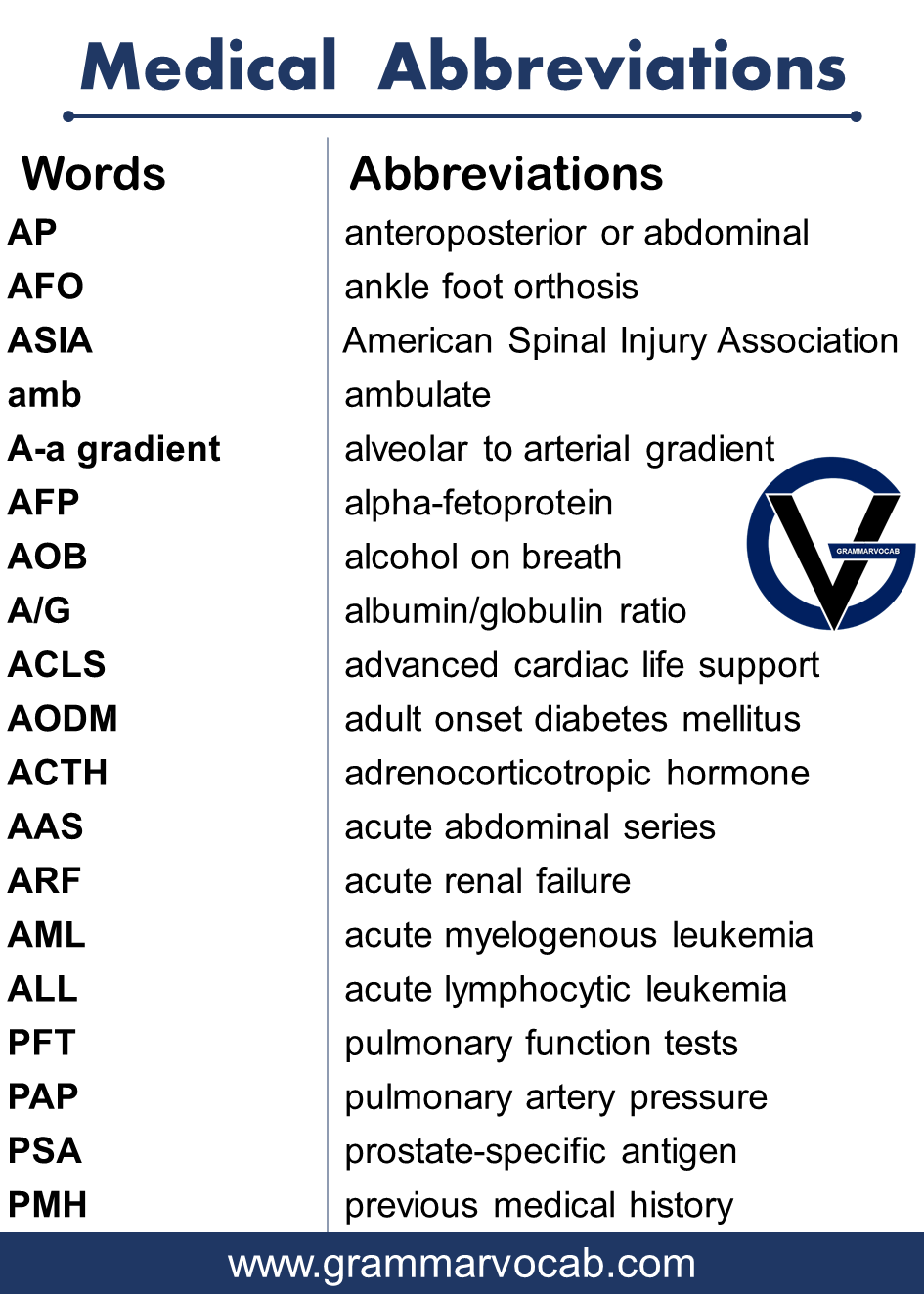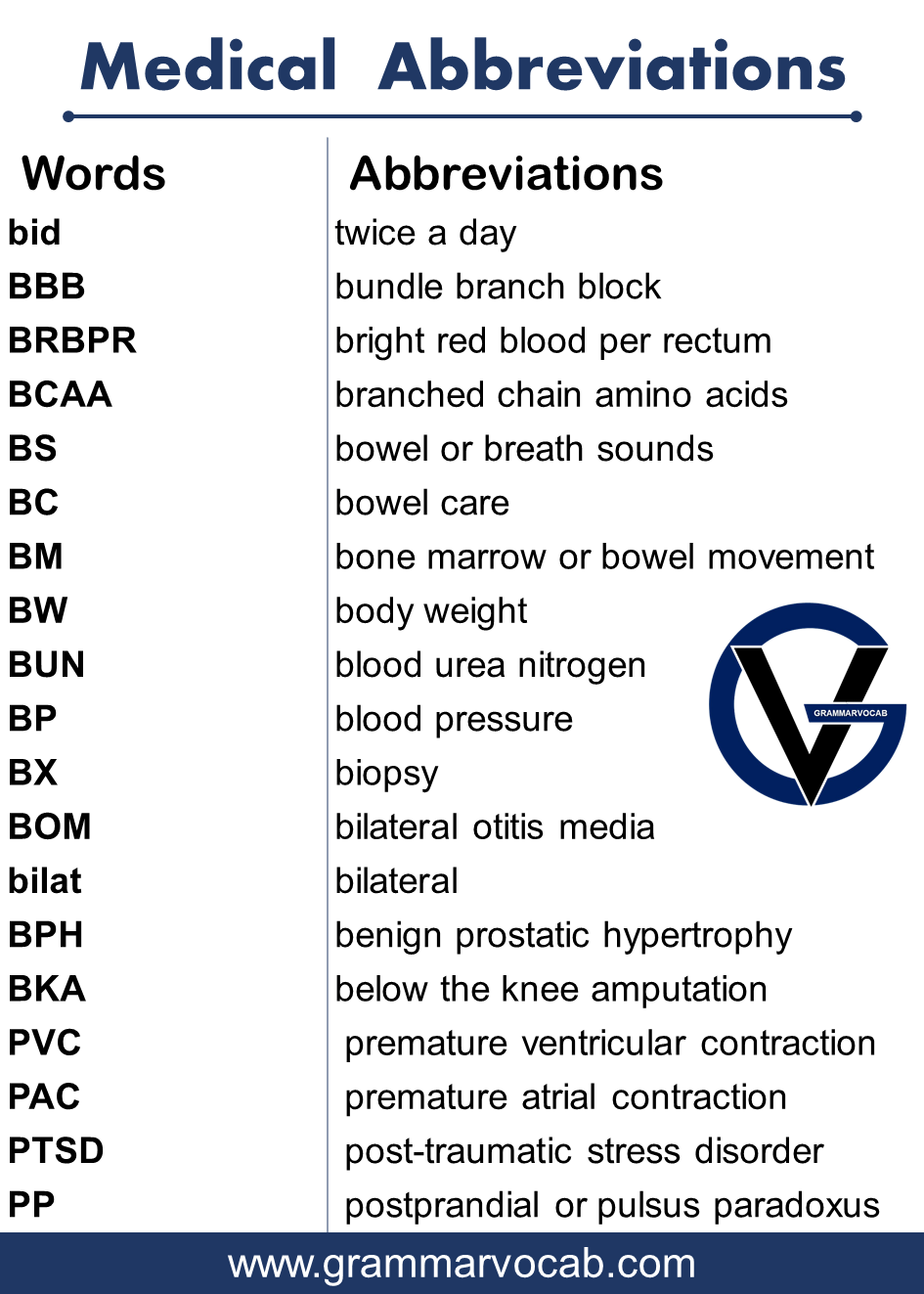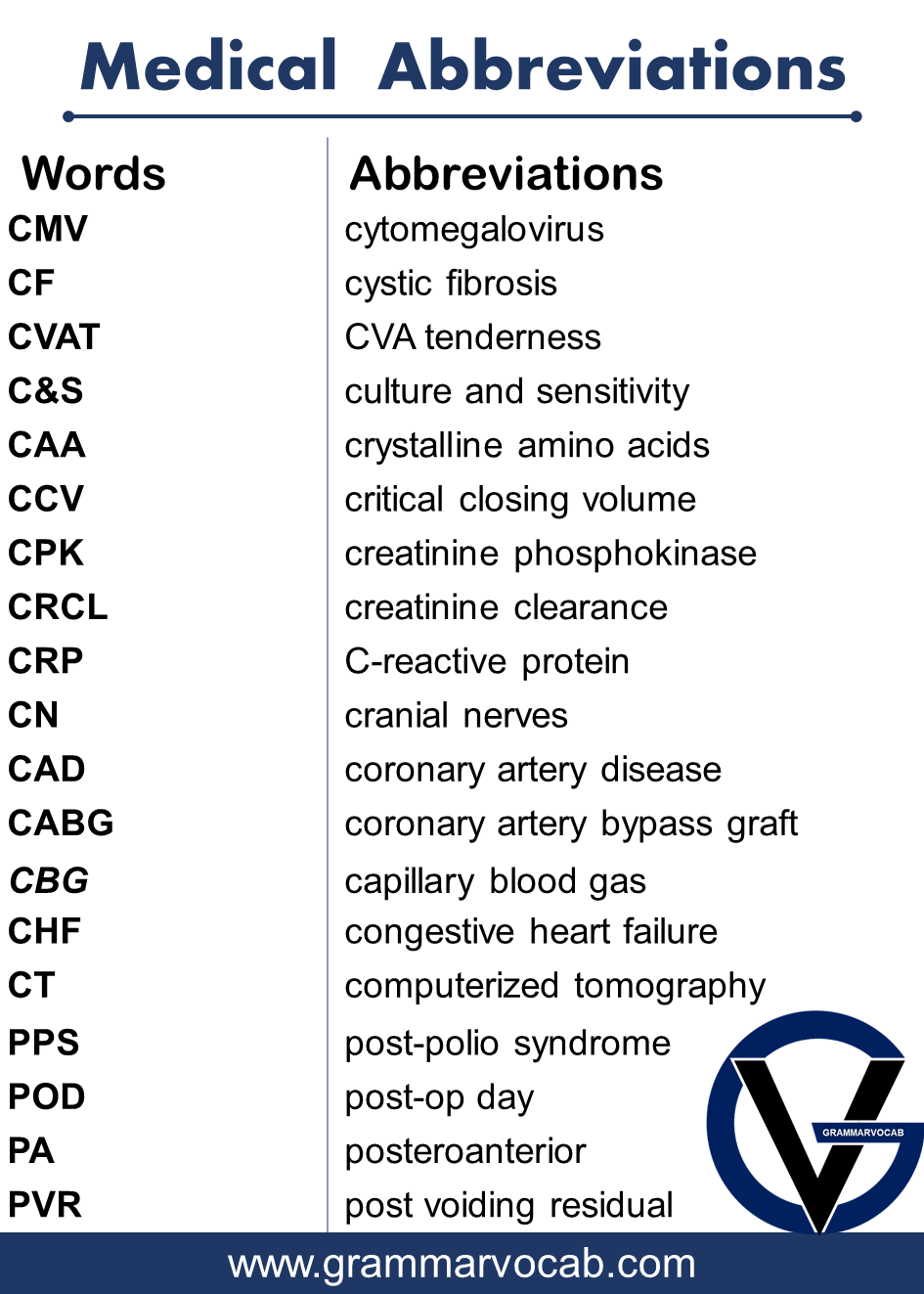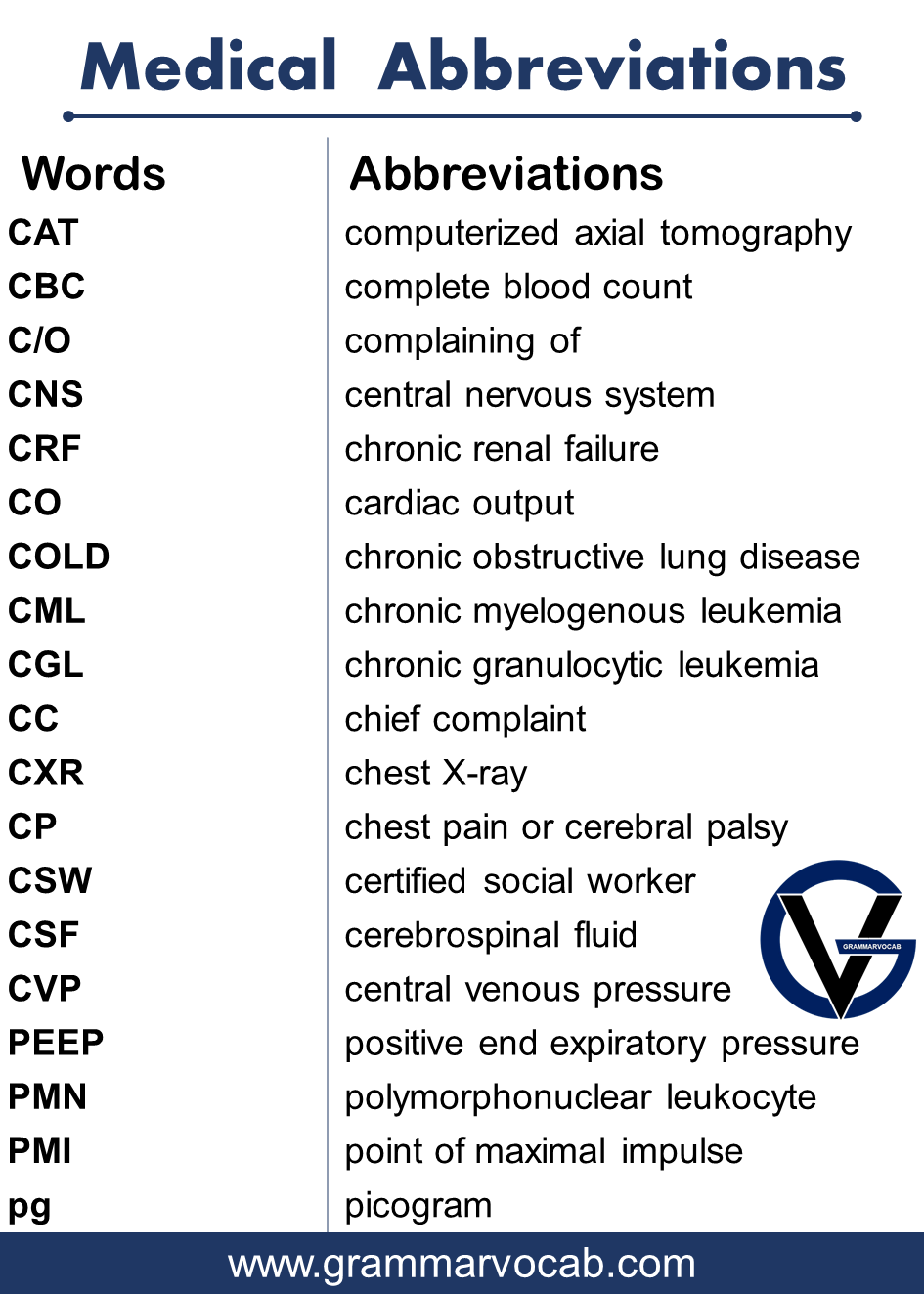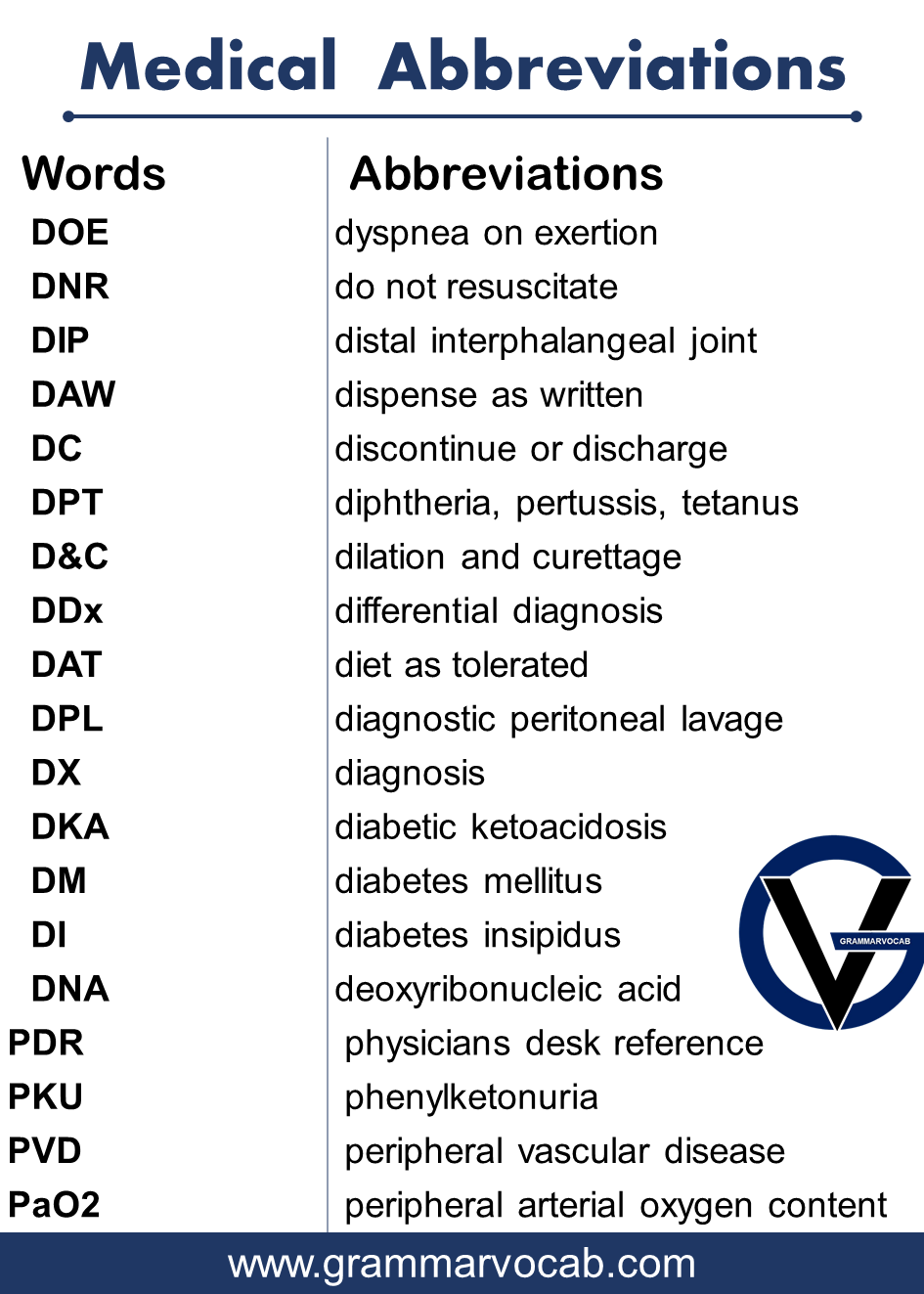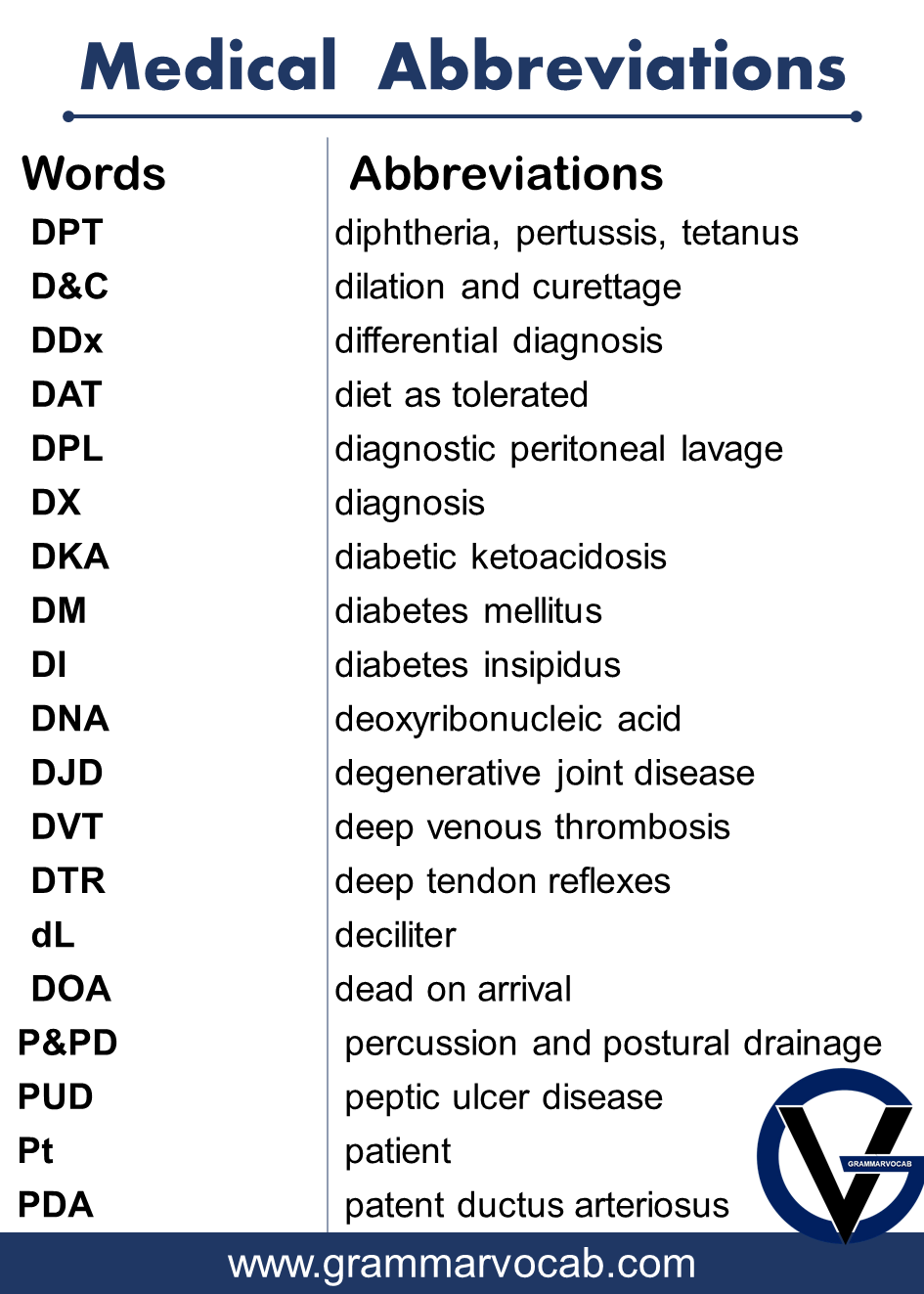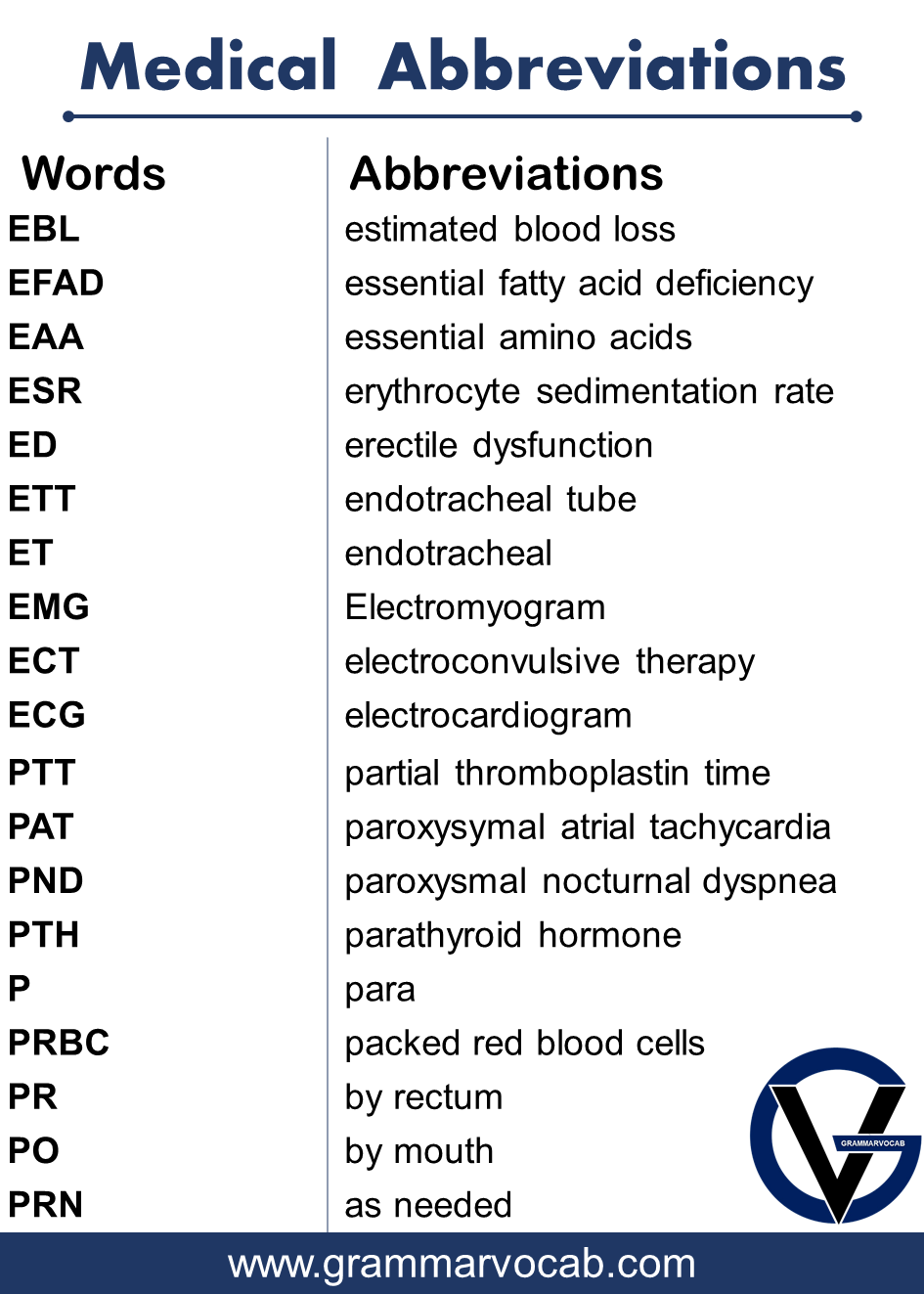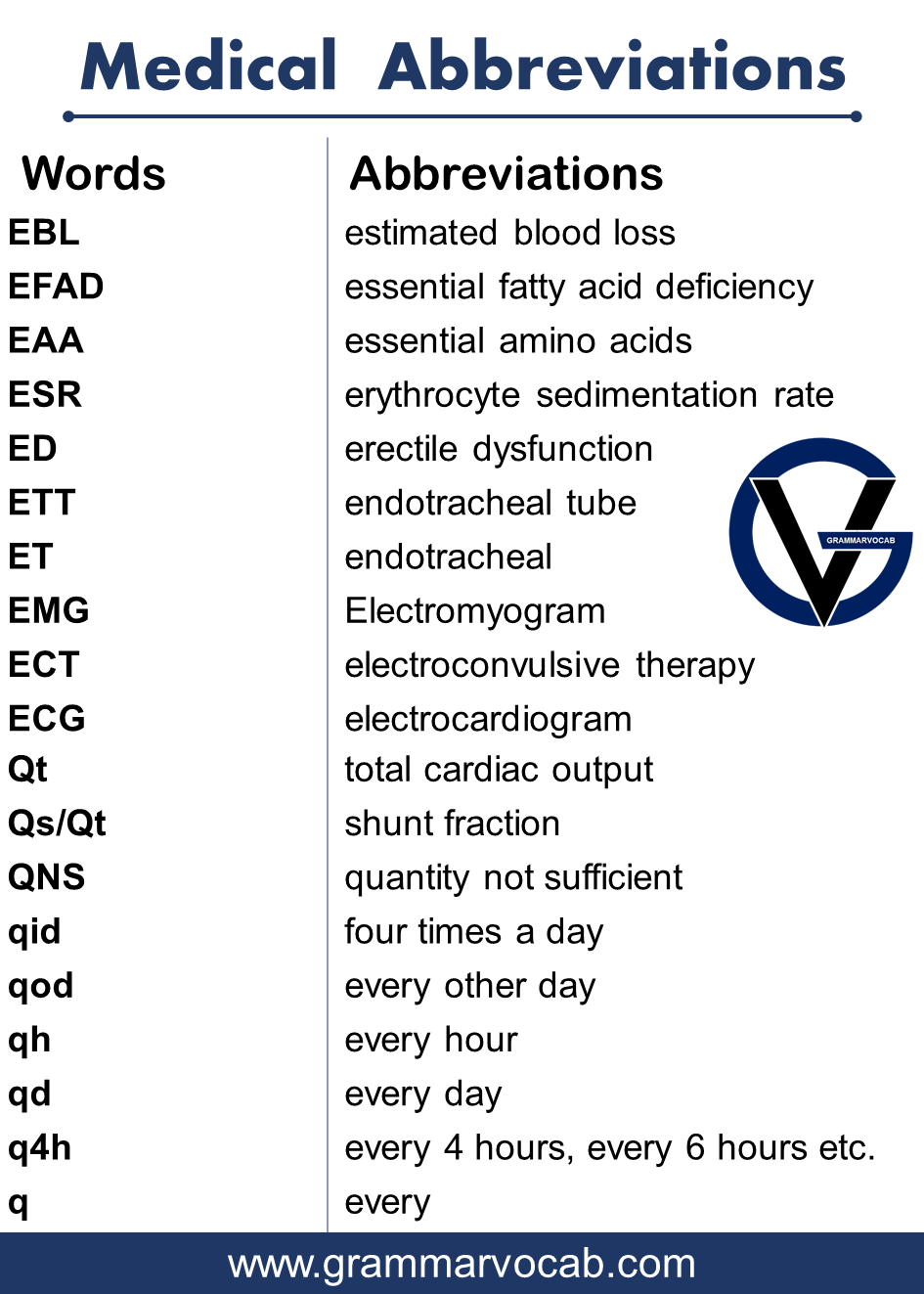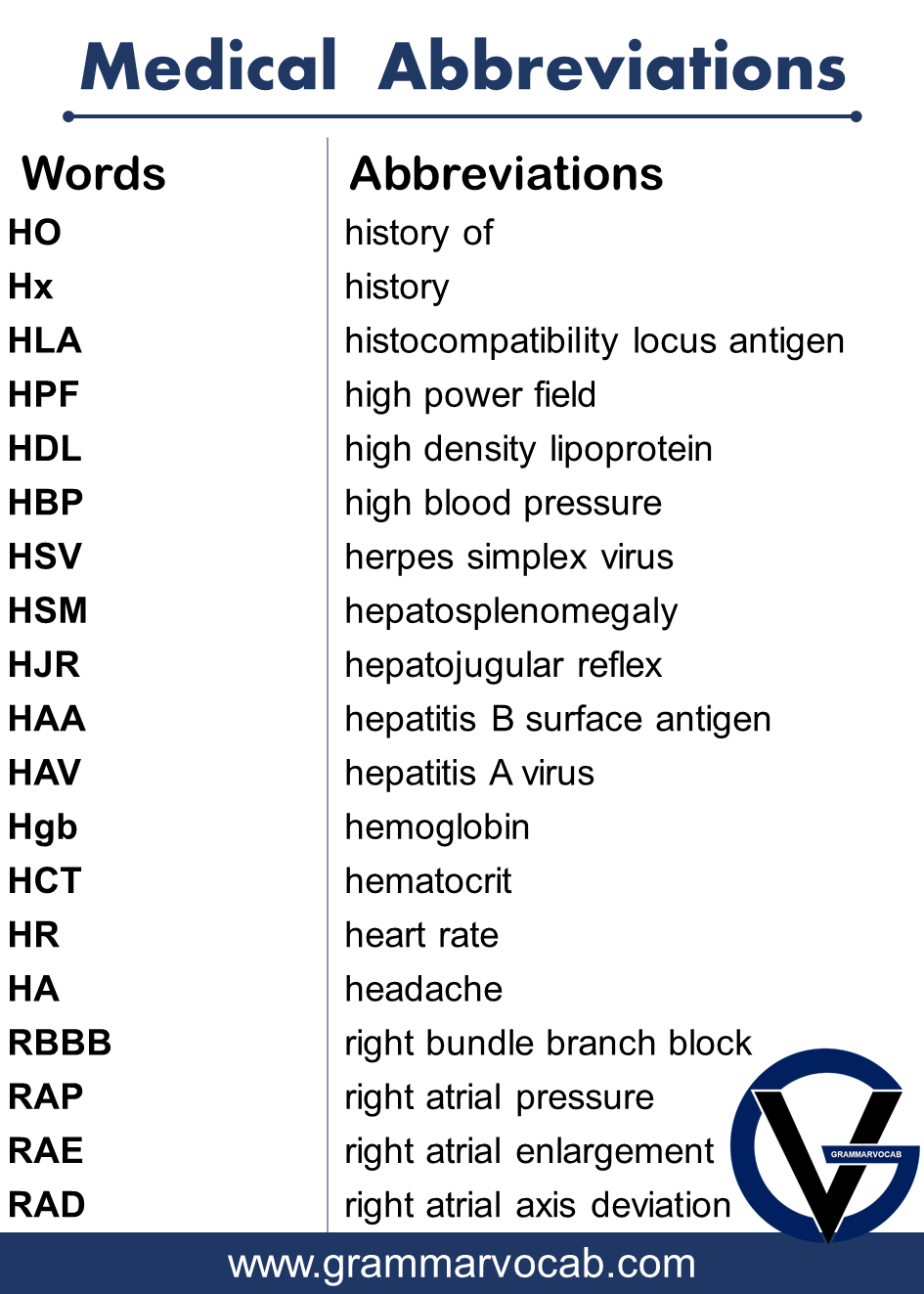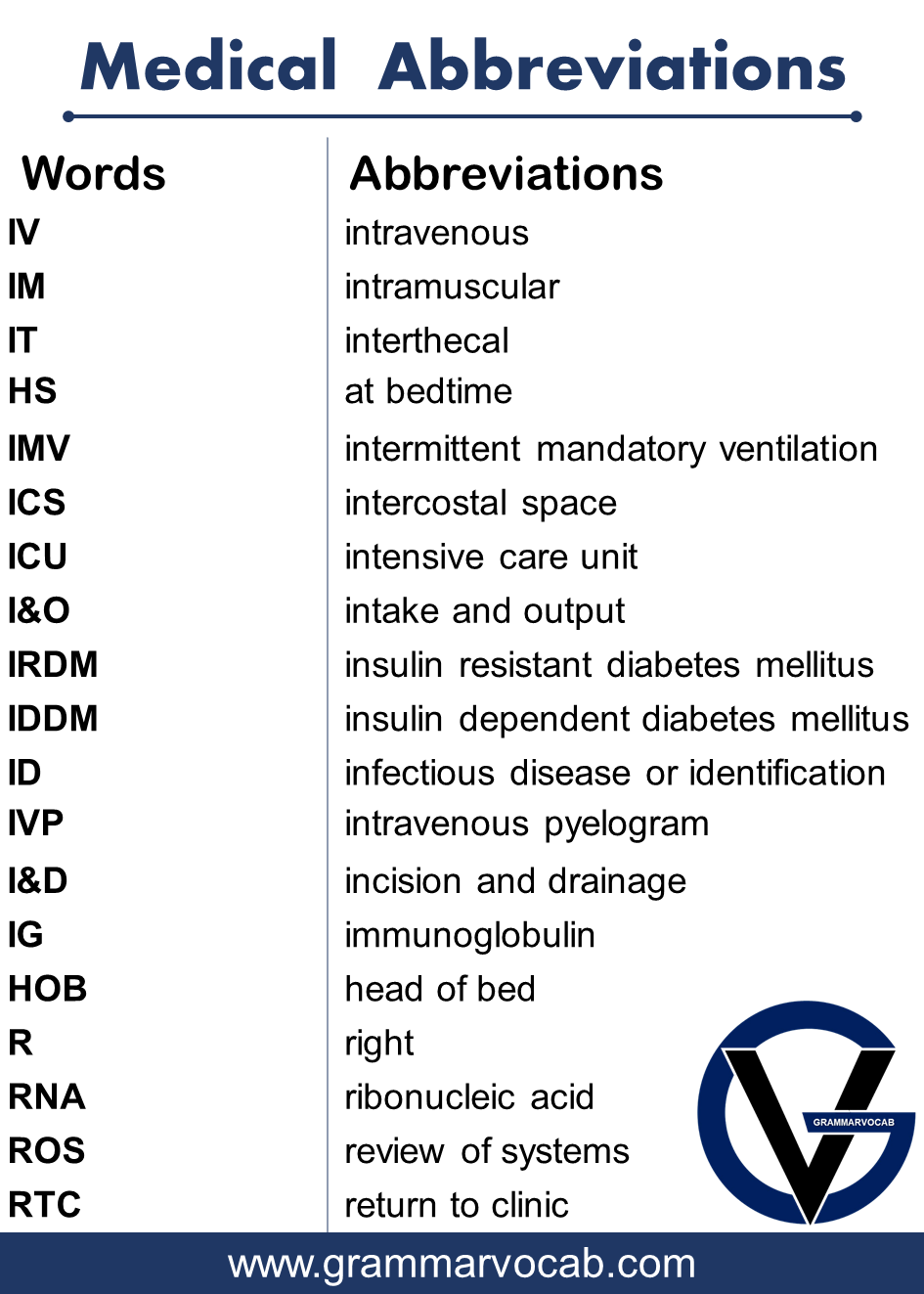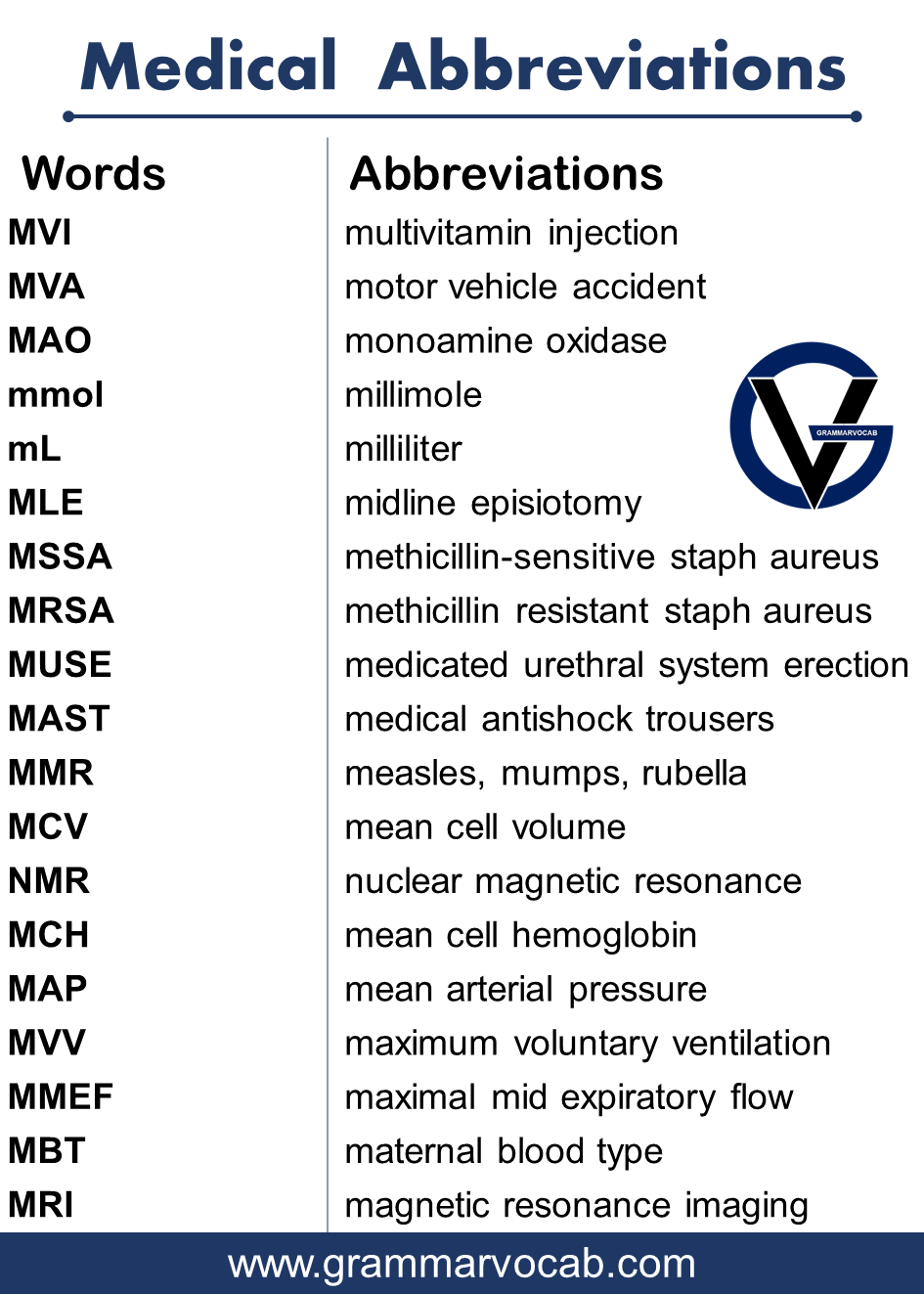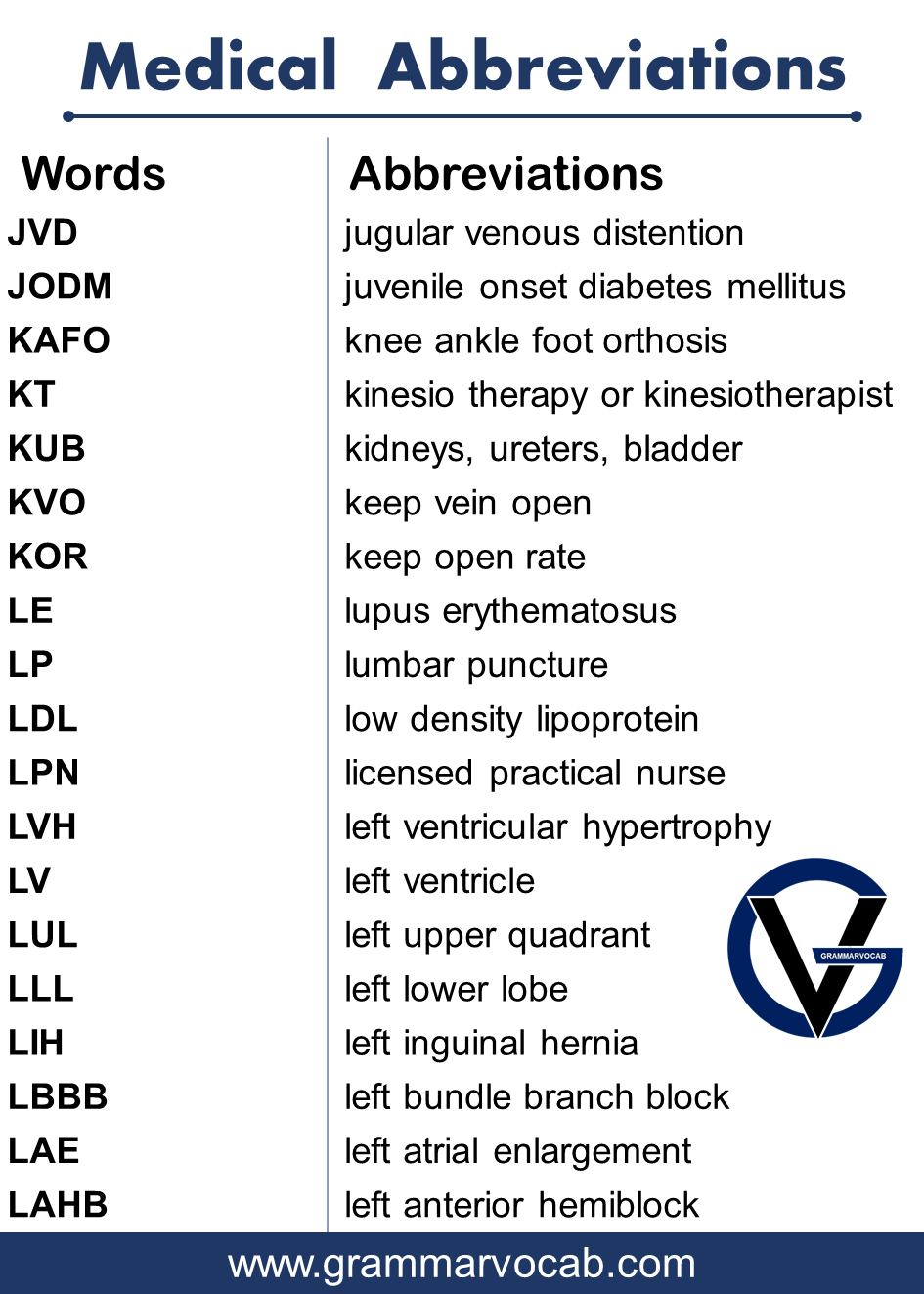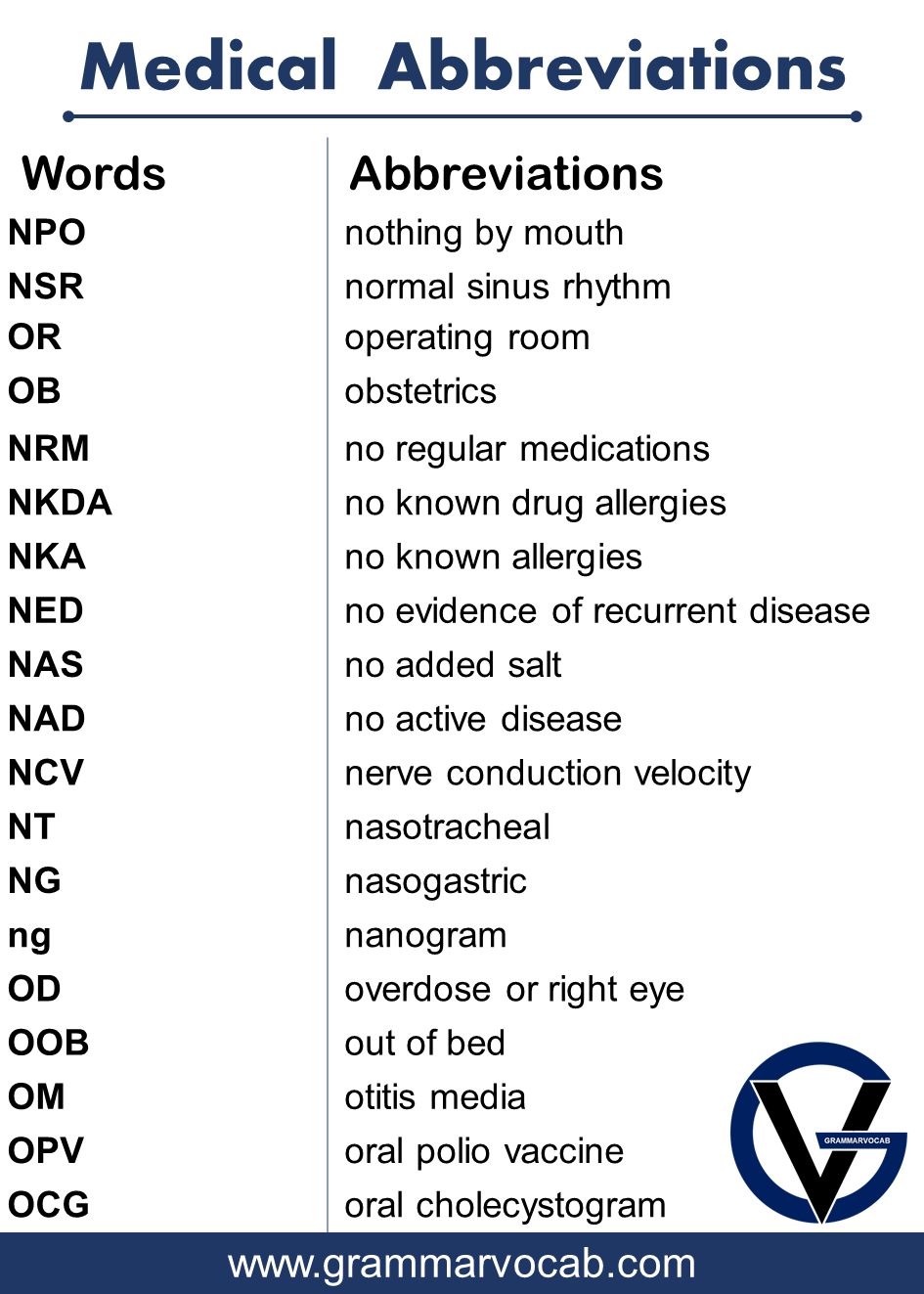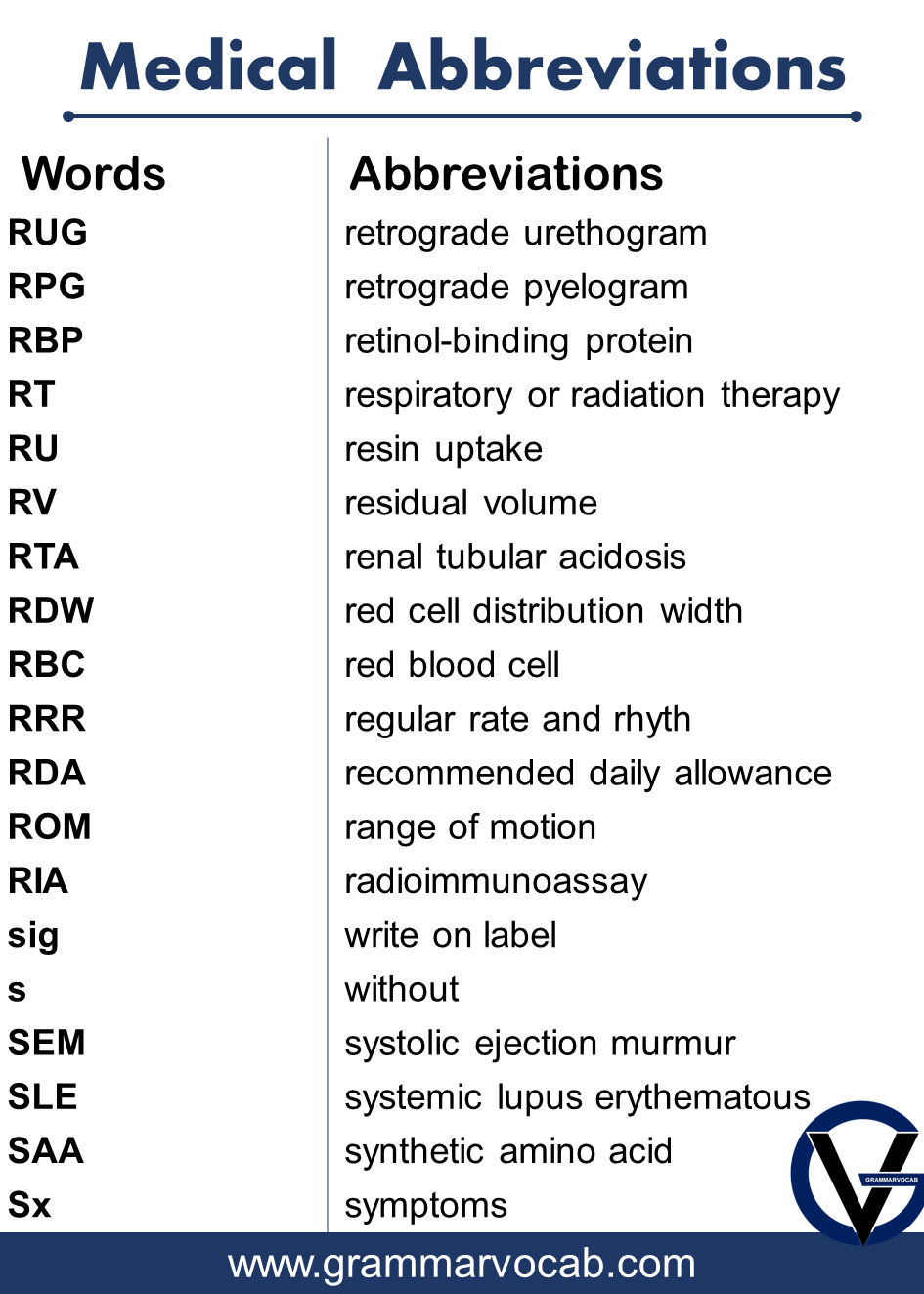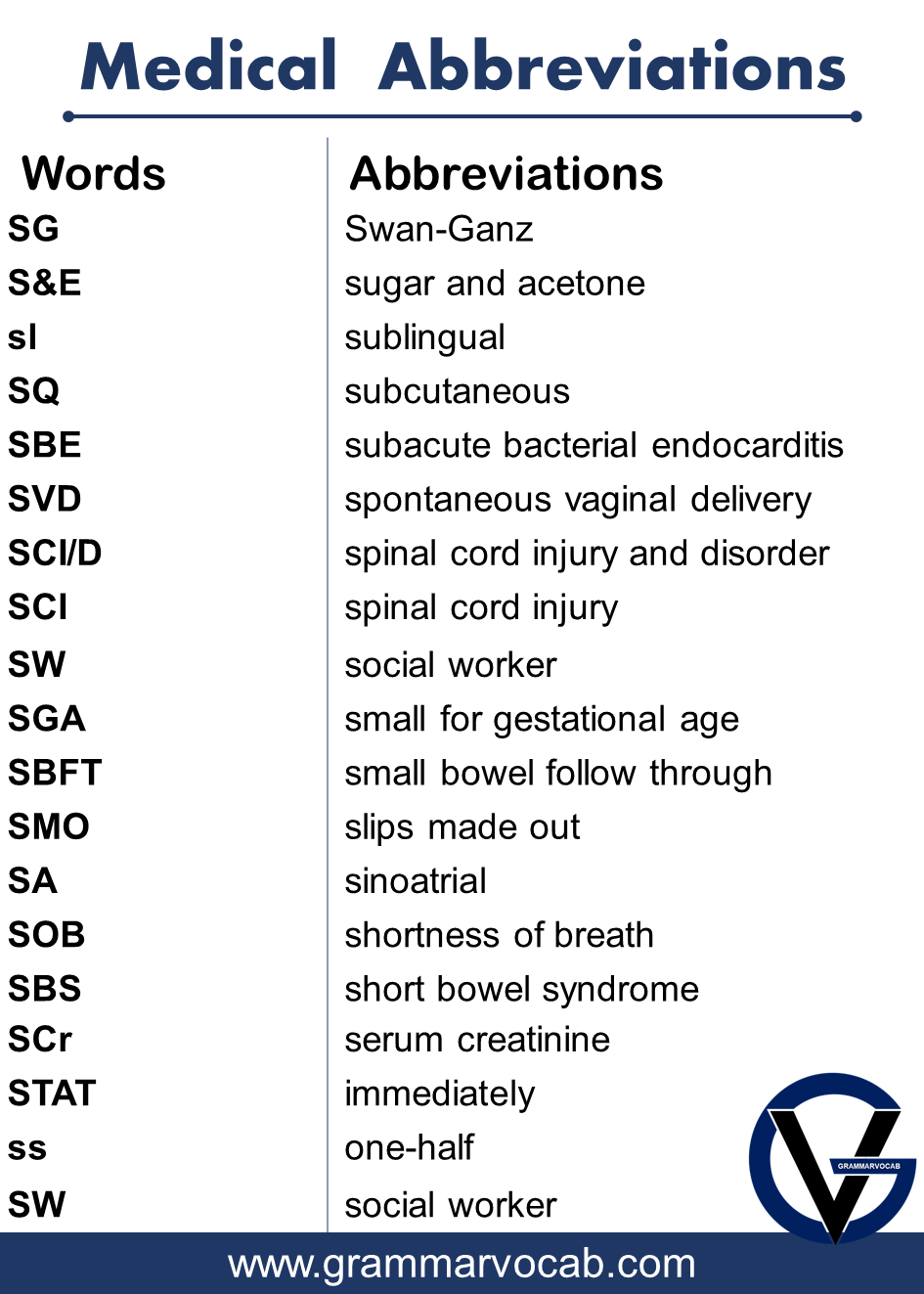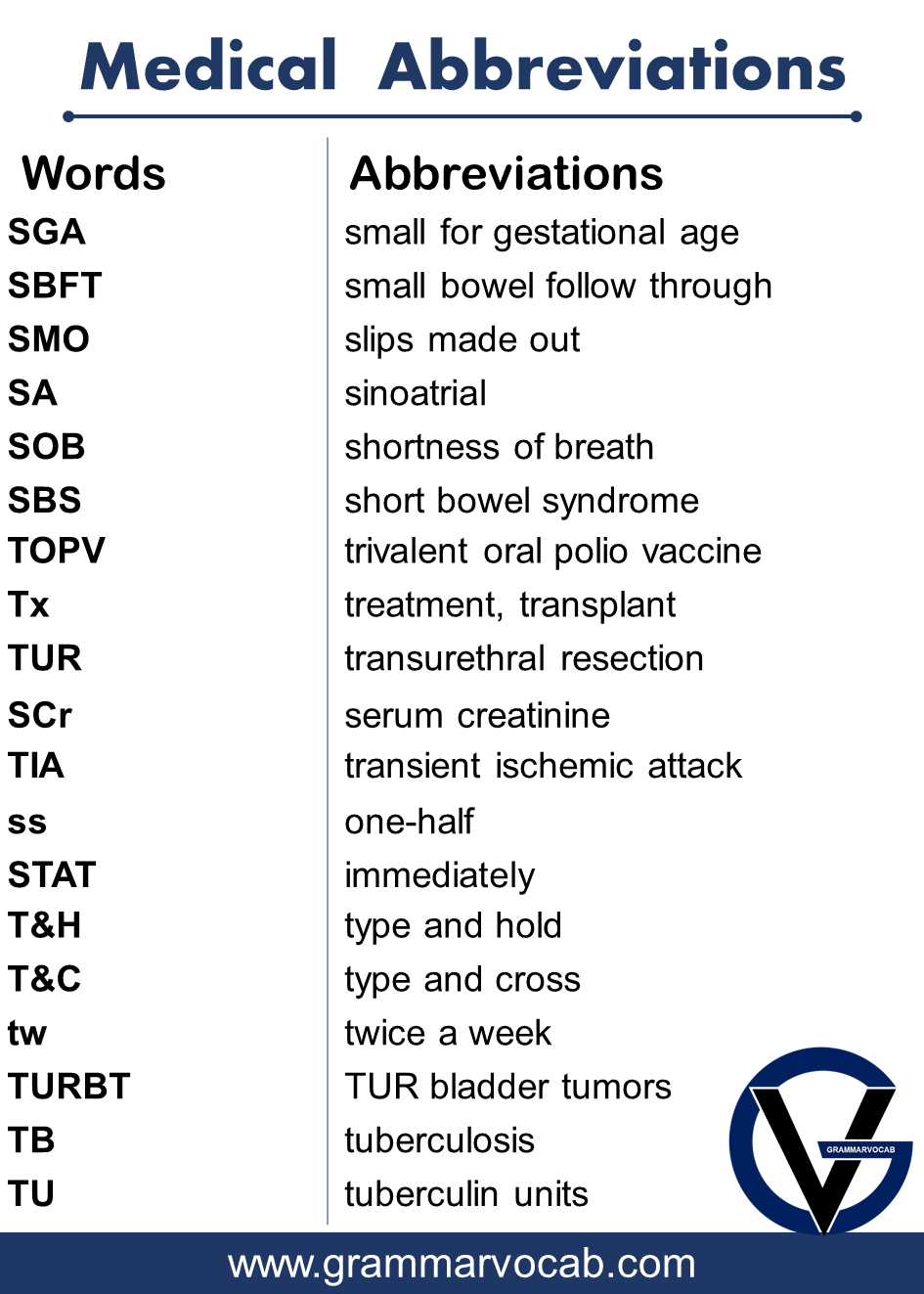 Download medical abbreviations for nurses pdf