List of Adverbs of Manner PDF!
What are Adverbs in English?
Adverbs often tell when, where, why, or under what conditions something happens or happened. Adverbs modify verbs, adjectives, or other adverbs. Below are some examples of adverbs:
He ran quickly.
He swims well.
She spoke softly.
What are Adverbs of Manner?
Adverbs of Manner deal with manners. Adverbs of manner describe how something happens. i.e it is possible to play good and bad. Adverbs helps in describing different manners, called adverbs of manner. Adverbs of manner normally come after the verb.
List of Adverbs of Manner in English
Below is the list of Adverbs of manner in English:
Negative Manner
Stupidly
Nervously
Noisily
Greedily
Foolishly
Shyly
Rudely
Violently
Awkwardly
Angrily
Selfishly
Recklessly
Cruelly
Lazily
Inadequately
Hungrily
Sadly
Poorly
Carelessly
Suspiciously
Painfully
Blindly
Tensely
Badly
Anxiously
Roughly
Loudly
Irritably
Madly
Hastily
Frantically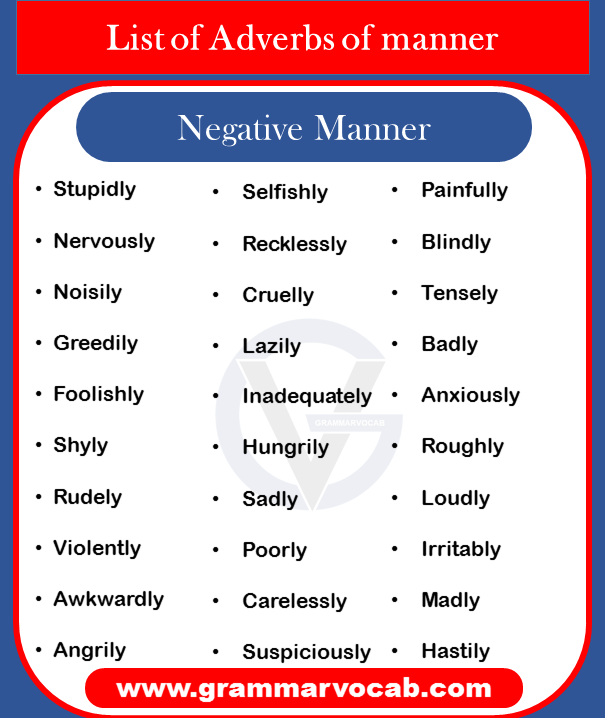 Positive Manner
Promptly
Openly
Honestly
Quietly
Powerfully
Faithfully
Cheerfully
Carefully
Equally
Eagerly
Justly
Joyously
Elegantly
Obediently
Bravely
Beautifully
Politely
Gently
Easily
Quickly
Perfectly
Generously
Rapidly
Neatly
Gladly
Patiently
Cautiously
Calmly
Well
Frankly
Boldly
Positive/Negative Manner List
Painfully
Hungrily
Frantically
Violently
Irritably
Anxiously
Nervously
Badly
Tensely
Stupidly
Blindly
Hastily
Greedily
Cruelly
Selfishly
Sadly
Lazily
Recklessly
Madly
Angrily
Poorly
Noisily
Inadequately
Suspiciously
Foolishly
Carelessly
Shyly
Loudly
Rudely
Roughly
Awkwardly
Download this list on Adverbs of Manner in English in PDF