100+ List of Adverbs of Time PDF!
List of Adverbs of Time
Adverbs of time in the provided list are almost the same as adverbs of frequency, as an adverb of frequency is a type of adverbs of time.
Adverbs of Definite Frequency
Quarterly
Daily
Yearly
Hourly
Monthly
Nightly
Fortnightly
Annually
Weekly
Points of Time
Tonight
Tomorrow
Yesterday
Today
Now
Then
Adverbs of Indefinite Frequency
Adverbs of frequency are also adverbs of time.
Seldom
Constantly
Always
Regularly
Generally
Usually
Often
Regularly
Infrequently
Rarely
Ever
Sometimes
Occasionally
Normally
Frequently
Never
Relationships in Time
Formerly
Late
Soon
Finally
Already
Yet
Before
Earlier
Early
Lately
Later
First
Still
Since
Eventually
Last
Recently
Previously
Next
Just
A List of Adverbs of Time
Generally
Sometimes
First
Lately
Daily
Monthly
Yet
Seldom
Recently
Early
Previously
Formerly
Last
Now
Infrequently
Annually
Fortnightly
Hourly
Never
Today
Often
Just
Not until
Tonight
Tomorrow
Frequently
Yearly
Regularly
Later
Late
Ever
Yesterday
Earlier
Constantly
Since
Eventually
Before
Next
Immediately
Normally
Rarely
Already
Finally
Soon
Then
Still
Occasionally
Weekly
Usually
Always
Examples of Adverbs of Time
It often rains in India.
I saw Mary yesterday.
I rarely read English newspapers.
I was sleeping then.
We waited all day.
She was born in 1878.
You should always be sharp.
I waited for a few minutes.
I left her home in the afternoon.
I went to the beach yesterday.
John seldom talks.
The newspaper arrives daily.
They go out to dinner weekly.
I got my order recently.
I will see you later.
I completed my work.
Try our A to Z list of  Adverb lesson: Adverb List
List of Adverbs of Time Infographics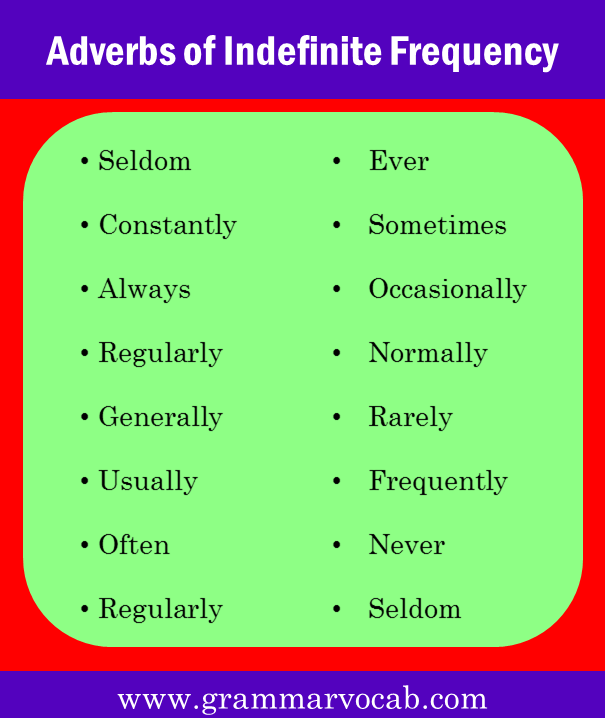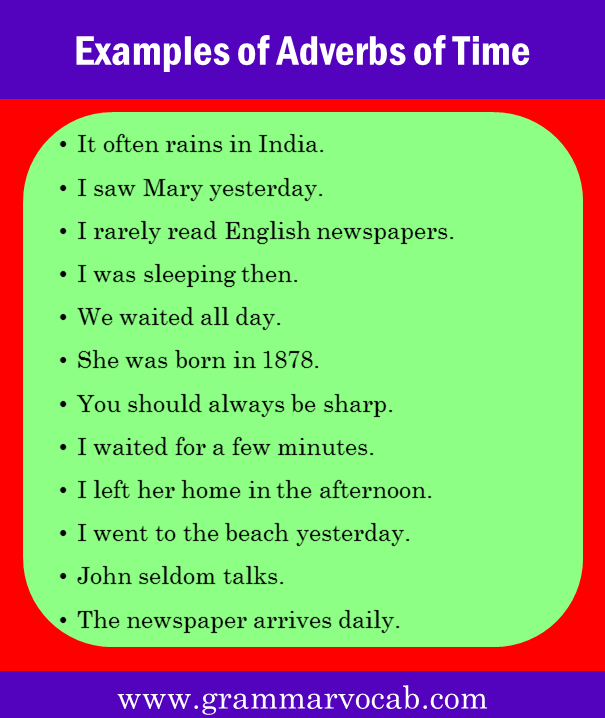 Download PDF for later use
List of Adverbs of Time For Kids
Monthly
Then
Already
Immediately
Tonight
Nightly
Yet
Everyday
Previously
Frequently
Today
Always
Next
Lately
Earlier
Last week
Still
Usually
Now
Annually
Quarterly
Always
Regularly
Monthly
Now
Later
Last
Yesterday
Recently
Day before yesterday
Occasionally
Momentarily
Generally
Tomorrow
Daily
Ever
Annually
Constantly
Quarterly
Rarely
Daily
Fortnightly
Last year
Later
Recently
Seldom
Before
Regularly
Sometimes
Normally
Yearly
Hourly
Early
Earlier
Since
Rarely
Last month
Never
Eventually
Finally
First
Just
Formerly
Weekly
Late
Soon
Tomorrow
Yearly
Often
Then
Weekly
Today
Currently
Infrequently
Yesterday
Soon
Often