Hats are an essential fashion accessory that can enhance any outfit, provide protection from the sun or rain, and even serve as a statement piece. With so many different types of hats available, it can be challenging to know which one to choose. Whether you're looking for a functional hat for outdoor activities or a stylish accessory to complete your look, understanding the different types of hats and their features can help you find the perfect one for your needs. In this blog post, we'll explore some of the most popular types of hats to help you choose the perfect one for any occasion.
Download Different Hats Pictures PDF
List of Hat Styles
Here is a list of types of hats from all over the world.
Cloche Hat
Turban
Half Hat
Baseball Cap
Kepi Hat
Garrison Cap
Ivy Cap
Boater Hat
Campaign Hat
Top Hat
Sailor Hat
Peach Basket Hat
Kettle Brim Hat
The Breton Cap
Trilby Hat
Tyrolean Hat
Panama Hat
Bowler Hat
Fedora
Bucket Hat
The Umbrella Hat
The Sou'Wester Hat
Conical Hat
Cartwheel Hat
Fez
Pith Helmet
Pakul Hat
Sun Hat
Floppy Hat
Bonnet
Trapper Hat
Types Of Hats With Pictures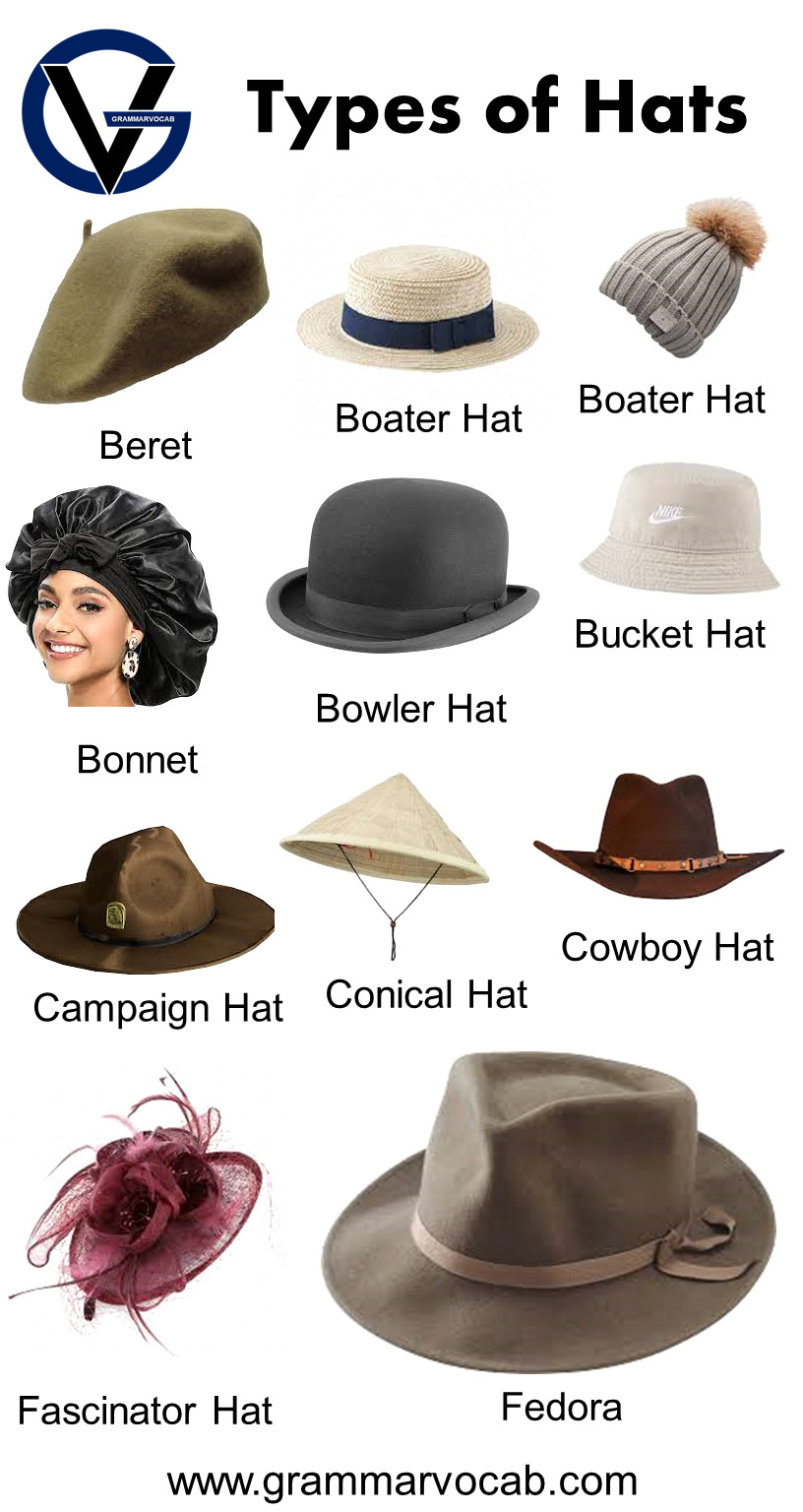 Must Learn: Accessories Vocabulary In English With Pictures
List Of Types Of Hats
Vagabond Hat
Beret
Bobble Hat
Yarmulke
Fascinator Hat
Pillbox Hat
Straw Hat
Newsboy Hat
Papakha Hat
Homburg Hat
Custodian Hat
Coonskin Hat
Toque Hat (aka Chef's Hat)
Boonie Hat
Pork Pie Hat
Balaclava
Ushanka Hat
Cowboy Hat
Cocktail Hat
Tam Cap
Whoopee Cap
Peaked Hat
The Deerstalker
Types Of Hats Name With Pictures